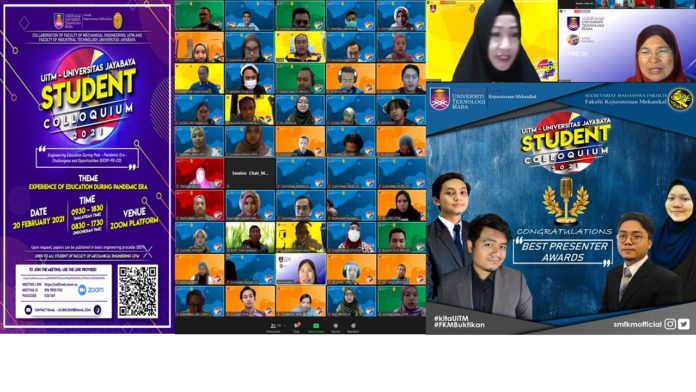 The Faculty of Mechanical Engineering (FKM), Universiti Teknologi MARA (UiTM), Malaysia hosted a virtual Student Colloquium 2021 on 22nd February 2021. It was part of the MOU activity between UiTM and Universitas Jayabaya, Indonesia, which was signed in May 2018.
The colloquium provided a virtual platform for students from Malaysia and Indonesia to get together and share their knowledge, ideas, experiences and challenges students faced during the current condition of COVID-19 pandemic.
The session began with a welcoming speech by the Dean of Faculty of Industrial Technology, Universitas Jayabaya, Ir. Herliati, M.T, PhD. followed by Prof. Dr Hadariah Bahron, the Assistant to Vice-Chancellor (International) UiTM. Both agreed that academic events between universities can encourage and develop long term collaboration activities and encourages engagement between both universities in the area of research, student development and teaching.
Two keynote speakers were invited before the parallel sessions. The first keynote was Dr Flora Elvistia Firdaus, Senior Lecturer from Faculty of Industrial Technology, Universitas Jayabaya, followed by Assoc. Prof. Dr Mohd Azman Yahya, Director of Co-Curriculum Development Centre, UiTM.
The presentation by the students from both the universities was related to the effects of COVID-19 pandemic on academicians as well as students. All participants agreed that students should improve their mindset in a way fitting to the current ODL and pandemic situation.
Students also presented relevant and interesting topics on solar car, unmanned aerial vehicle, machine learning, renewable energy, food technology, manufacturing science and online learning pedagogy.
The colloquium encouraged students to communicate their ideas and opinions. It provided a platform for students from both universities to practice and hone their oral communication skills.
The colloquium was attended by more than 200 participants, where 45 presenters comprising researchers, lecturers and students from both universities presented their research findings. Students with the best presentation were awarded the best presenter award at the end of the colloquium. The event ended with the closing speech from Afifah Suryoono Putri from Universitas Jayabaya and Dr Nor Fazli Adull Manan from UiTM.