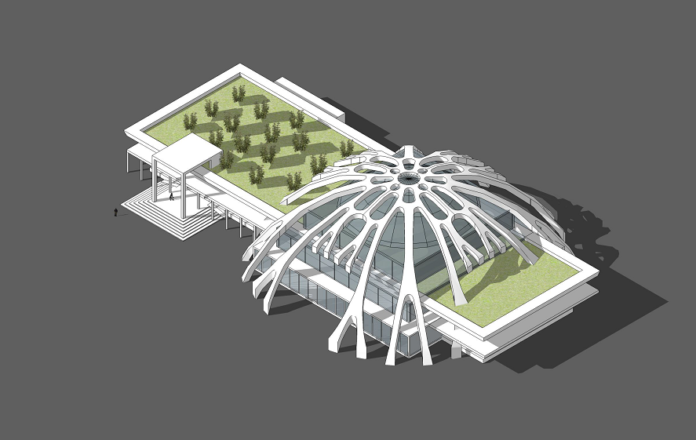 The jury of Urban Greenhouse Challenge: Reforest, an international competition currently being held at TPU, has selected the best projects to the next round. Ten interdisciplinary student teams have made it into the final.
It is the first time Urban Greenhouse Challenge: Reforest has been held at a Russian university. Tomsk Polytechnic University became its main organizer. The students are to develop a prototype for a city farm, an autonomous greenhouse for growing coniferous and deciduous seedlings on multi-tiered shelving units. The prize pool of the competition is $10 000.
"Over 20 teams from 12 countries of the world including Kazakhstan, Portugal, Italy, France, China, Kyrgyzstan, Nigeria and others took part in the selection round. We had students from 57 universities, 11 of them were foreign," Maxim Volkov, Head of TPU International Cooperation Division, says.
"It was challenging to select the best projects for the final. The experts note a high level of the concepts submitted. The final top ten was difficult enough to choose. In the nearest time, the contestants will work with our mentors to polish and fine-tune their projects. We will sum up the results in the summer of 2021," adds Maxim.
The finalists are: Accelerator (St. Petersburg Mining University, St. Petersburg); Engineers of the Future (Udmurt State University, Izhevsk); Environmental Engineering Group (TPU, TSU, TUSUR, TSUASU, Tomsk); Green Garden (Ugra State University, Khanty-Mansiysk); Green Spot (Voronezh State University of Forestry named after G.F. Morozov, Voronezh; Gubkin Petroleum Geoecologists (GUBKIN UNIVERSITY National University of Oil and Gas, Moscow) REWIND group (Karaganda Technical University, Karaganda BUKETOV University, Republic of Kazakhstan); Skyff (UrFU, TPU, Higher School of Economics, Yekaterinburg, Tomsk, Moscow); TimiryazevLandscape (Russian State Agrarian University – Moscow Timiryazev Agricultural Academy, ITMO University); YOLKA-IGOLKA (Kryachkov Novosibirsk State University of Architecture, Design and Arts, Novosibirsk State Technical University).
"It is a particularly powerful feature that the projects are presented by truly interdisciplinary teams. We have students of very different fields of study like ecology and nature management, environmental management and water management, design, chemistry, landscape architecture, chemical technology, materials science and many others. Only teamwork and knowledge sharing help to achieve really interesting results," Maxim Volkov adds.
Urban Greenhouse Challenge: Reforest is supported by the Ministry of Science and Higher Education of the Russian Federation, Nuffic Neso Russia (Netherlands Education Support Office) – the official representative of Dutch higher education in Russia, Schneider Electric – the world expert in energy management and automation with divisions in over 100 countries, and iFarm – a company developing solutions for modern urban farming.
The official media partner of the competition is Social Navigator, an outreach project of Rossiya Segodnya international news agency.