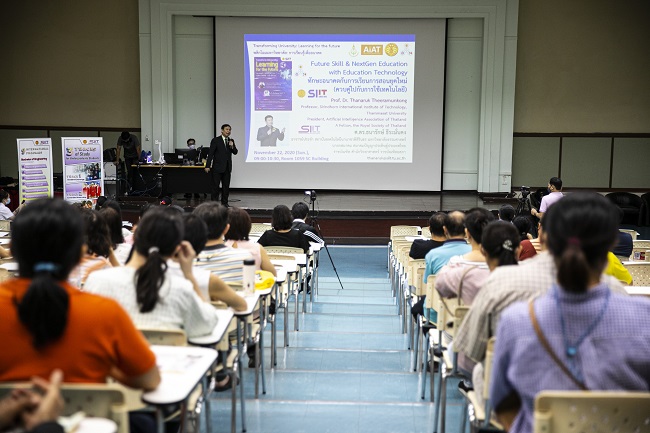 Sirindhorn International Institute of Technology (SIIT), Thammasat University hosted a scholarship examination for students with outstanding performance (SOP) for the 2021 academic year, as well as an open house activity showcasing all nine departments of the faculty and a special talk on the topic "Transform University: Learning for the Future," delivered by Professor Dr. Thanaruk Theeramunkong, President of Artificial Intelligence Association Of Thailand (AIAT), experts of Office of the Royal Society, and professor of the Master of Engineering in Information and Communication Technology for Embedded Systems Curriculum.
The event was held on November 22, 2020, at Social Complex Building, Thammasat University, Rangsit campus with a large audience of both students and parents.
Professor Dr. Thanaruk Theeramunkong said, "Education needs to match the pace of the increasing technological advancement, making sure students who graduated from the system can meet the demand of the future. We are talking about digital technology, artificial intelligence (AI), and material science. If cannot do so, unemployment will be on the rise due to the lack of needed skills in the future."
Professor Dr. Thanaruk Theeramunkong said, "The curriculum in institutions and university need to be adapted. To be the university of the future, learning process, the content will have to catch up with all of the life-changing technology and innovation. They will revolutionize our lives, our society, our business and industry."
For the past 2 – 3 years, the education industry has been worried about the increasing unemployment rate that could go up to 72% due to lack of skills needed in the future.
He also added, "The pandemic has sped up many disruptions. For example, big companies like Uber, Airbnb laid off some of their employees and explored new ways of getting around with less workforce. This means that people with outdated skills are no longer needed in a company. So, the big question: What are the skills for the future, and how institutions, universities, and students should adapt?"
"In my opinion, mathematics will remain one of the fundamental skills. Besides that, one should be able to have knowledge and skills for being an innovator, which are technology, and science. All of these can be combined creating fresh ideas that will work harmoniously with the technology like AI, Robotics, and Material Science," said Professor Dr. Thanaruk Theeramunkong.
"Other than those skills another important set of skills is soft skills like having empathy, analyzing data, thinking critically, and solving a complex problem. This also includes people skills and creativity. Family and community will have to take part to teach these skills, and the university will have to design the classroom and curriculum for the future with personalized learning," added the professor.
"But we are not completely behind. Nowadays the education industry also utilizes technology, integrating it with the current curriculum like using AI to manage teaching and learning, Augmented Reality (AR), Virtual Reality (VR), and Simulation to accompany the lesson. There are also many online classroom platforms. For SIIT and Thammasat University, we also have curricula like GenNext Academy or online master degree programs like TUXSA." he explained.
Assoc. Prof. Dr. Suthathip Suanmali, professor at the School of Management Technology, SIIT said, " SIIT doesn't focus solely on engineering. We also have the school of Management Technology that combines many areas from related fields making sure our graduates have critical thinking skills and many more. In addition, SIIT has an international learning environment. There are hundreds of exchange students from many places which creates a diverse society that expands beyond the classrooms."
"Another strong suit of SIIT is that we allow our students to choose how they want to spend their last year of the curriculum. They can choose the path that suits their future whether it is working on a senior project, long-term intern (4-6 months), or studying abroad."
"Teaching is not the only work we do at SIIT, we always carrying out research, refining our teaching making sure our teaching is efficient, and our graduates are equipped with the future skills and can work in any circumstance. According to a survey, our graduates have a higher income rate than those of other schools and a 95% employment rate. Employers are also reported that they are satisfied with their employees from SIIT. Our students are known for their performance and their ability to adapt due to our diverse learning environment," said Assoc. Prof. Dr. Suthathip Suanmali.