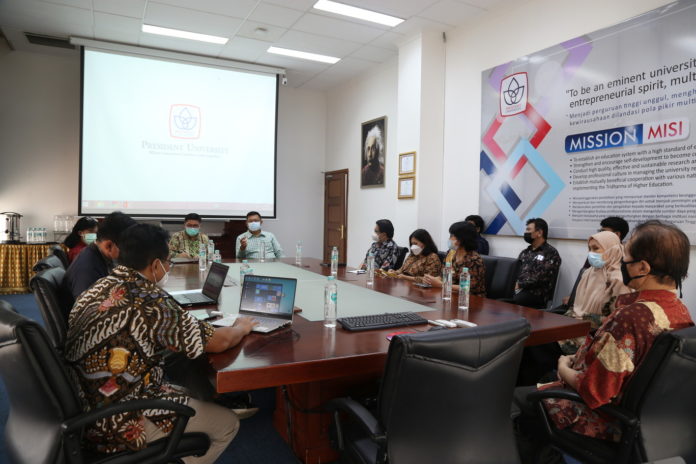 A team from Sekolah Tinggi Teologi Bethel Indonesia (STTBI), Jakarta, paid a visit to the President University (PresUniv) campus in the Jababeka industrial area, Cikarang, Bekasi.
The team led by Dr Frans Pantan, Chairman of STTBI, was welcomed directly by the Chancellor of PresUniv, Prof. Dr Jony Oktavian Haryanto in the Conference Room, Campus PresUniv. Said Frans Patan, "We conducted this visit in order to study and strengthen secretarial governance and Unit Penjaminan Mutu Internal at STTBI."
Prof. Jony said, "The meeting was a follow-up to the Memorandum of Understanding or MoU signed by PresUniv and STTBI some time ago."
After giving remarks, the event continued with presentations from various bureaus, units and directorates in PresUniv, such as the Bureau of Public Relations, Legal and Secretariat, Software Development, Higher Education Database (PDPT), Academic Bureau, Library and Direktorat Penjaminan Mutu Internal (DPMI).
After the presentation from each bureau and unit in PresUniv, the STTBI team spread out. They went into more detail about each bureau and unit's duties and functions, including governance and tips and tricks.