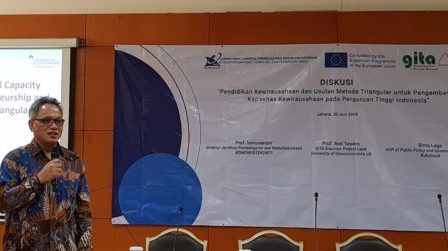 President University's partnership with the University of Glasgow (UofG), United Kingdom, is now four years old. During these years, the universities have shared knowledge and collaborated on research, and worked together on projects to increase universities' capacity in entrepreneurship development. As part of their partnership, President University's alumni are alos eligible to apply for scholarships for pursuing studies their studies at the University of Glasgow.
One of the partnership's milestone is that both universities are jointly working on the Growing Indonesia project – a Triangular Approach or GITA.
"This project aims to encourage collaboration between universities, government and corporations. One of the goals is to create new entrepreneurs from campus and its surroundings," said Adhi Setyo Santoso, Director of SetSail BizAccel, the coordinator for the GITA project. SetSail BizAccel is President University's business incubator, aiming to help students who want to start their own business.
Adhi further explained about the Triangular Approach, "This includes developing effective cooperation between universities and companies, instilling the entrepreneurial spirit in all stakeholders at the university, and building new companies from ideas and innovations that contribute to the local and regional economy."
GITA is an international scale project with a value of more than IDR 1 billion. This project involves a number of universities in Indonesia and abroad and funded by Erasmus, a commission in the European Union that supports various activities in education, training, youth.
Through GITA, the university hopes that more and more entrepreneurs will be born from the campus and its surroundings.