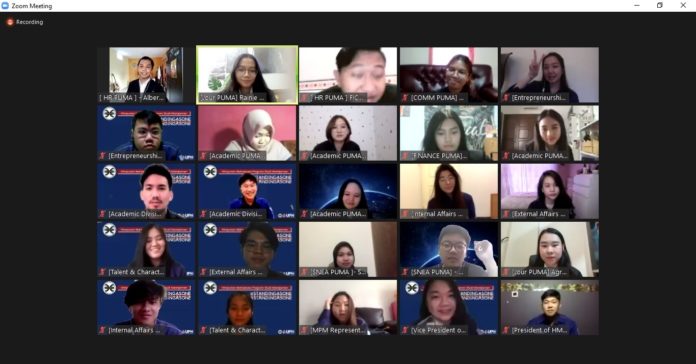 President University Major Association (PUMA) Management, President University (PresUniv), collaboration with the Management Study Program Student Association (HMPSM), Pelita Harapan University (UPH), held a comparative study.
This activity aimed to exchange experiences, information, and work programs from each organization, and was attended by all committees of PUMA Management 2021, committees of HMPSM UPH 2021, and Assoc. Prof. Dr Dra Genoveva, M.M., Program Leader of Management Study Program, Presuniv.
In her remarks, Genoveva conveyed the importance of organizing on campus as a medium of learning in facing the world of work. "Through organizational activities, we can exchange information, experiences and expand friendship with other universities. This is certainly useful for learning," she said.
Gratio R. Deo Tumiwa, Chairperson of PUMA Management 2021, agrees. He said, this study comparative was a forum for establishing relationships with other organizations outside PresUniv, so they could collaborate together in the future.
This activity was held online and consisted of two sessions. The first session was in the form of presentations from two organizations regarding management, work programs, and activities that have been carried out.
The second session is the most important session because each committee will be divided into small groups according to their divisions so that the discussion can focus more on one area that suits their division.