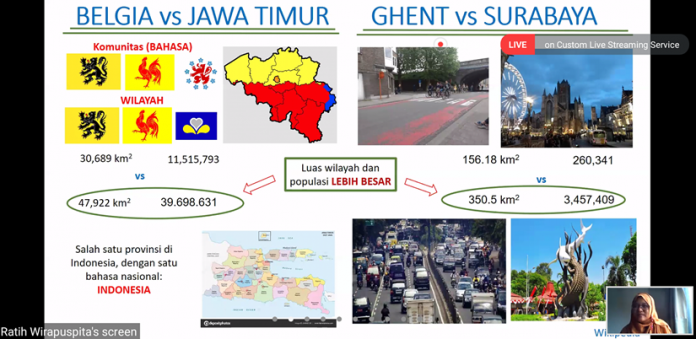 Alumni Association (IKA) of the Commissariat of Faculty of Public Health (FKM), Universitas Airlangga (UNAIR)  held an online discussion,  titled "Alumni Stories in 6 Countries Facing Covid-19 Pandemic", on Sunday, May 3, 2020.
Done via a zoom meeting application and broadcasted live through the FKM YouTube channel, the discussion was attended by around 300 participants with speakers from FKM alumni abroad studying in 5 countries, Australia, Georgia, Thailand, Belgium and Hungary.
The first story was from the FKM alumnus in Indonesia, Tutut Indra Wahyuni, who is currently the  Head of Food Health Subdivision, Directorate of Environmental Health, Ministry of Health, Republic of Indonesia, Jakarta. Tutut who is involved in PSBB Ministerial Health Regulation and the preparation of various guidelines related to Covid-19 policy shared about DKI Jakarta's readiness to prepare for the implementation of PSBB policy quickly, in the form of guidelines and things that must be considered during the PSBB.
" DKI Jakarta government also invite communities at the neighborhood level to tackle the spread of Covid-19 by preparing guidelines and technical guidelines," Tutut said.
Andini Pramono, who is currently pursuing a Ph.D in Australian National University, Canberra, Australia described how the Australian government and the state of Canberra responded to Covid-19.
There were some good lessons to be learned from the Australian government's rapid response anticipating COVID-19 by conducting effective and consistent communication. Community trust in the government is quite good, supported by a good level of public health literacy.
Abdu Naf'an, a M.Sc in Public Health Student at University of Debrecen, Medical School of Hungary, said the restriction policy in Hungary is massively disseminated through advertisements on TV, social media, and public transportation.
According to Abdu, restrictions on activities in Hungary relating to Covid-19 are accompanied by the application of fines. The social and economic impact was also felt in Hungary, mass layoffs, some hospitality industries were also affected, schools and campuses also stopped activities until an unspecified time.
From Belgium spoke Ratih Wirapuspita, a PhD student in the Department of Public Health & Primary Care, Faculty of Medicine & Health Science, Ghent University.
Ratih said that there were fines and imprisonment (three months to a two-year prison sentence) for those who violated the lockdown policy.
"Support from the community is quite good, with mutual assistance, both cloth masks, food and financial donations for students," said Ratih.
The condition of Thailand was explained by Budi Eko Siswoyo a PhD Student, Mahidol University, Salaya, Thailand. Budi is also a Researcher, International Project, and Research Unit at Mekong Basin Disease Surveillance Foundation Bangkok, Thailand.
Budi shared that in wake of the Covid-19 pandemic, the Thai government implemented some policies, in addition to curfew both international and domestic transmission, the government also set up a Covid-19 health care system, a healthy living campaign, social and economic security scheme for affected communities.
Then, the last story about the Covid-19 pandemic was shared by Argita Dyah Salindri, a PhD student at Georgia State University, Atlanta, USA), who is currently studying at National Center for Tuberculosis and Lung Disease, Tbilisi, Georgia. Argita shared that the first case found there was on February 27, 2020 ( imported case ), and on March 28 a local transmission case was found.
On March 21, 2020, the administration declared a state of emergency condition, which was enforced until April 21, 2020, but extended to May 22, 2020. The administration has imposed a restriction policy (nationwide curfew, regional lockdown, and movement restriction ) as well as stay at home campaigns and mask use.
From the discussion, IKA FKM formulated several recommendations regarding the handling of Covid-19. Learning from stories and experiences from 5 other countries, the recommendation can be applied in Indonesia to suppress the Covid-19 pandemic.
Estiningtyas N., S.KM., M.Kes. Head of  FKM Alumni Association and moderator of the discussion summarized that measures like large-scale social distancing, community participation and support, fostering health literacy, and enforcement of contact tracing were found to be key to manage this pandemic.
"A strict implementation accompanied by law enforcement is the right choice for now," Estiningyas said.