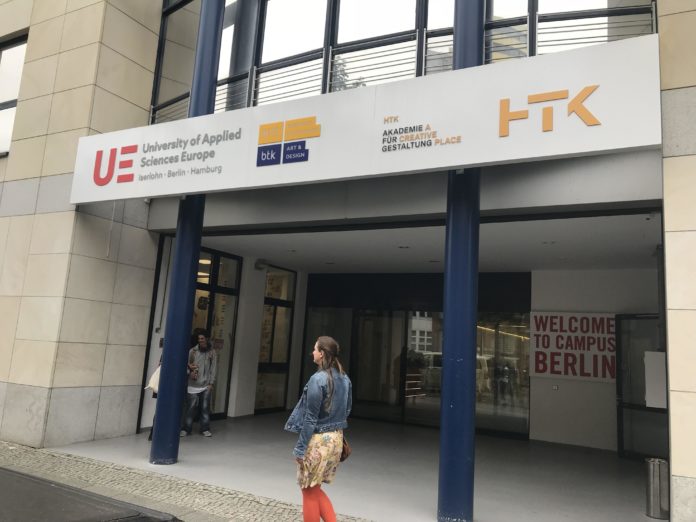 Berlin, February 22, 2019 – The University of Applied Sciences Europe (UE) has announced the launch of the new English-language Master's programme Innovation Design Management for September 2019.
The programme offers a combination of design and business studies, and nurtures innovative and creative students on their way towards senior management and the organisational design of companies.
This unique programme is open to graduates in Business, Marketing, Communications, Technology, Product Design, Communication Design, and Brand Design from across the globe. Students will acquire the expertise needed to lead companies to succeed through the strategic use of design to create higher quality products and improved development processes. Applicants with professional experience are particularly welcome.
As a centre of creativity and innovation with a vibrant start-up scene, Berlin is the ideal location for this new Master's programme. All students will also have a great opportunity for close cooperation with leading industry professionals and actual enterprises to gain practical experience.
The new two-semester Master's programme consists of three modules. The theoretical module focuses on the basics of design history, design culture, and the social impact of design. It also covers economic theory, analytical techniques, and innovative management models. During the practical module, students have an opportunity to develop projects on product strategy or digital brand innovation; they also have the chance to collaborate with industry partners. In the final module, students complete a Master's thesis. Workshops, design sprints and interdisciplinary group projects enable participants to further expand their knowledge.
Johannes Kiessler, Programme Director for the Innovation Design Management Master's programme at the Berlin campus of UE, explains: "Radical or disruptive innovations require entirely new development processes. In future-oriented companies, design thinking is an integral part of the quest for innovation and customer-friendly products. In our new programme, we want to prepare our students for this development in the best possible way."
Master's graduates can pursue careers in international companies with a strong focus on innovation and design. Typical areas of work include: Design Manager, Strategic Brand Manager, Business Developer/ Consultant, Product Manager, Design Strategist, Innovation Manager, and Project Manager.
About the University of Applied Sciences Europe – Iserlohn, Berlin, Hamburg
The University of Applied Sciences Europe is a state-accredited university with campuses in Iserlohn, Berlin and Hamburg. The university educates the designers and decision-makers of tomorrow in the fields of Business Management, Media and Communication Management, Sports Management, Psychology, and Art & Design. We lay the foundations for careers on the global employment market. Through its extensive network of partner institutions around the world, the University of Applied Sciences Europe promotes international and intercultural exchange in research, teaching, and practice.
All Bachelor's, Master's and dual degree programs are state-accredited. The university also offers dual study programs and an online international MBA. At the end of 2014, the university was re-accredited for a further ten years giving it Germany's highest possible academic quality label. Find out more: https://www.ue-germany.com/en