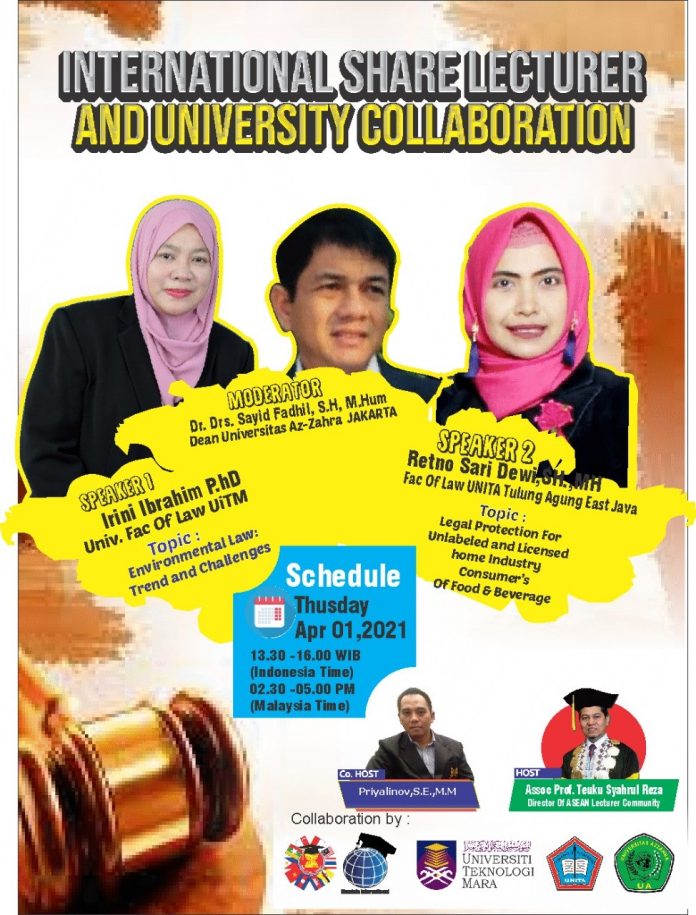 Issues concerning environmental law have long been discussed on an international scale, as the problems faced by nations are interconnected. The Faculty of Law of Universiti
Teknologi MARA (UiTMLaw) environmental law expert, Dr Irini Ibrahim, shared her knowledge at the International Share Lecturer and University Collaboration lecture series.
The event was part of a series of lectures, a collaboration between Universiti Teknologi MARA, Malaysia, Universitas as-Zahra and Universitas Tulungagung, both from Indonesia. This platform encourages multidisciplinary knowledge-sharing among lecturers from various ASEAN universities.  The sharing session was attended by academicians and students, who posed questions on, among others, the role of wetlands as the "Kidneys of the Earth", wildlife and migratory birds.
Dr Irini said, "Despite the devastating impact of the Covid-19 pandemic on public health, economy and social movements, the pandemic can be seen to be a blessing to the environment. When the global community went into isolated lockdown within the confines of their homes, the environment sighed a relieved breath. Nature blossomed. Global
pollution rates plummeted drastically."
She continued, "The Ganga and Yamuna rivers of India became extremely clean. Closer to home, the pH levels of the Malacca River have improved. Faunas of the world enjoyed momentary freedom as animals roam the Earth more freely."
She concluded that these are solid evidence of the negative impact that the human race has on the environment.
Dr Irini added that issues of the wetlands are not new issues. Under the RAMSAR Convention, several wetlands in Malaysia are registered for possessing international importance. However, more needs to be done to spread awareness of the importance of wetlands as the "Kidneys of the Earth".
UiTMLaw takes pride in Dr Irini for shedding light on issues of the wetlands during these troubled times. The session illustrates the serious need to tackle issues concerning the environment. It is hoped that the audience benefitted from this sharing session.