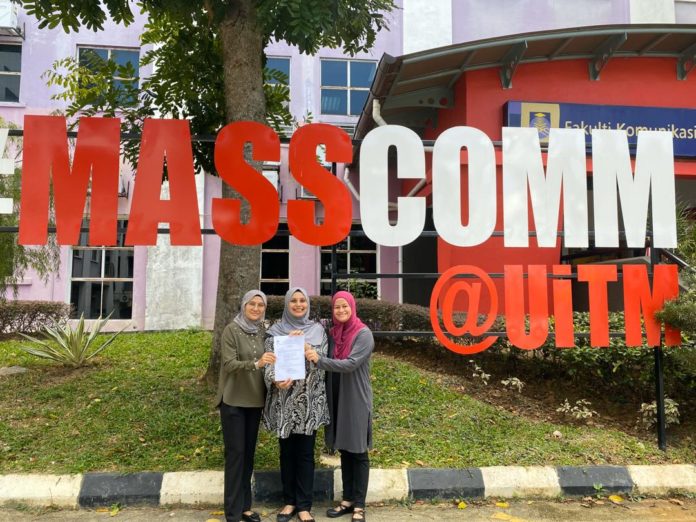 On 26th June 2020, Universiti Teknologi MARA (UiTM), Malaysia received a total of nine International Grants from Universitas Negeri Semarang Indonesia (UNNES) for research collaborations. This includes one for the Faculty of Communication and Media Studies (MASSCOMM).
Three senior lecturers from MASSCOMM led by Melina Mahpuz, Baby Anusha Nur Mohamed Thaheer and Dr Tengku Elena Tengku Mahamad were awarded a sum of IDR 100,000,000.00 (One Hundred Million Indonesian Rupiah) equivalent to RM28,500.00 for the research project entitled "The Role of Social Media in Promoting UiTM and UNNES as International Education Institution".
A list of topics was suggested among academicians from both UiTM and UNNES for consideration to kick start this collaboration. Among those, the title "Role of Social Media in Promoting Higher Education Institution" was suggested to the MASSCOMM faculty. The proposal by Melina, Baby Anusha and Dr Elena was chosen to receive the grant.
The lecturers, a passionate group have written and researched on similar topics focusing on communication activities and social media. Our new normal has made this topic even more important as most of our teaching and learning requires an online presence.
The grants were awarded based on a discussion on research projects funded by UiTM LESTARI-Semarang Research Grant Scheme, also known as the International Research Partnership-Matching Grant (IPRA-UNNES).
This grant was introduced to encourage research activities to generate knowledge that contributes to the improvement of the intellectual level and to nurture the culture of research between UiTM researchers and UNNES researchers. Furthermore, this grant aims to strengthen the relationship and create a continuous flow of knowledge and cooperation between researchers from both universities. A matching grant from UNNES – the UNNES International Research Grant was also introduced for the same purpose.
UNNES, a public university in Indonesia focuses on research activities as they have many international research collaborations and the most recent is one with is the Consulate General of the Republic of Indonesia (KJRI) in Jeddah, Saudi Arabia.
This research collaboration is part of UiTM's ongoing internationalization agenda initiated by Research Nexus UiTM (ReNeU), UiTM's research & development unit that is responsible to promote high impact multidisciplinary research. This entity envisions to galvanize the excellent research practices amongst UiTM's researchers to soar to greater heights.