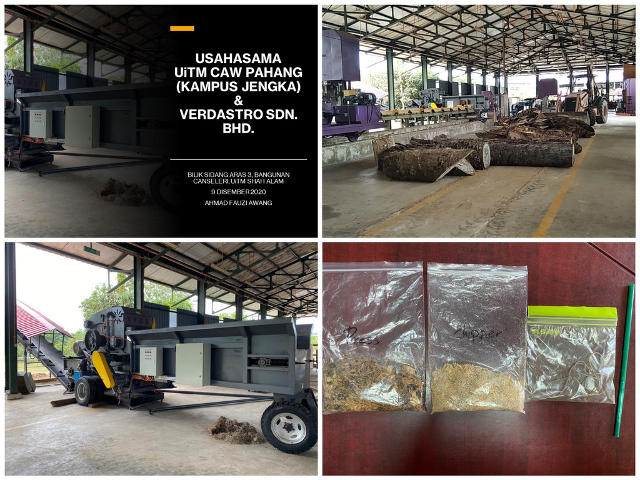 On 9th December 2020, Micro Manufacturing Hub (MMH) Universiti Teknologi MARA, (UiTM) Pahang, Jengka Campus, Malaysia signed an agreement with Verdastro Sdn Bhd, Malaysia's pioneer in the commercialization of bio-plastic company.
Verdastro manufacturing, a factory at Gebeng Industrial Estate, Pahang is famous for bio-resin or green resin production from the extraction of oil palm trunk (OPT). The crucial objective of this collaboration is to make UiTM Pahang the main production hub of OPT dust.
As Malaysia is a pioneer in the oil palm plantation, it's a great initiative and opportunity to produce bio-resin from OPT dust. Bio-resin is a resin that derives some or all of its constituent monomers from biological sources and the current famous sources are plant-based such as oil palm, corn and soybean.
Bio-resin is considered a biodegradable material that is easy to be disposed of quickly within three days. Generally, oil palm plantation yield gradually decreases and requires a re-plantation after 25 years and above. The mature palm tree hence can be useful as a source of OPT dust and beneficial to further produce the bio-resin.
This collaboration is in line with the Sustainable Development Goal (SDG) 15 to protect, restore, and promote sustainable use of terrestrial ecosystems. Non-biodegradable plastic has become a global crisis that may stay in the land for hundreds of years and contribute to health problems in humans and animals. Therefore, it's important to provide environmentally friendly material known as bio-resin to disrupt the current plastic-based industry.
From this joint venture agreement, Woodtech, Faculty of Applied Science, UiTM Pahang may supply the space, basic facilities, the equipment that capable to transform the oil palm trunk to dust and more importantly as a source of manpower. This is a good opportunity for the internship and fresh graduate students from Woodtech to gain experience prior to the real-life work exposure.
Verdastro Sdn Bhd may provide a yearly operating budget of approximately RM 50,000 and pay a salary to the head of the laboratory which is the lecturer of Woodtech itself, Ahmad Fauzi bin Awang. It is firmly believed that this collaboration can impact the community at large and UiTM in particular.