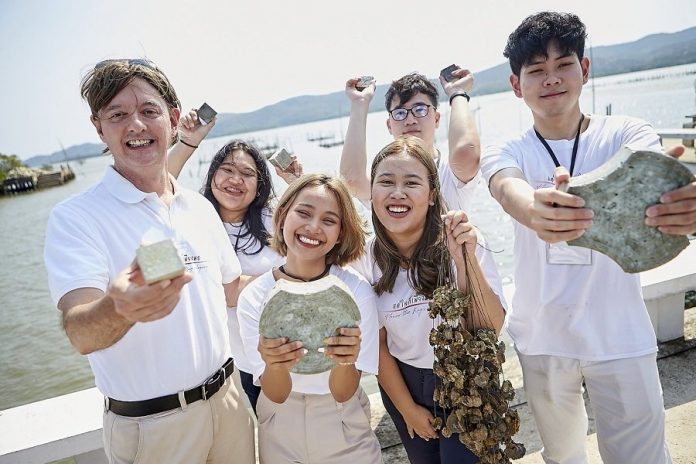 Students of Thammasat University have invented glowing brick blocks from the oyster shell. This innovation from the "Mitr" Team has won the award from the Honor the King's Legacy project by Nissan Motor Thailand. The invention may aid in generating income for Ban Takad Ngow community, Chanthaburi province.
The Honor the King's Legacy project encourages students to design and create the solution to waste problems in order to create sustainable income for the community during the COVID-19 situation.
"During this crisis time, helping each other is a critical thing to do. In fact, students that create this invention help reduce waste in the area and create income for the community. It is a pleasant and impressive task", said Ramesh Narasimhan, President of Nissan Motor Thailand.
He also says that the idea of the "Mitr" team, the winning team, is creative and integrates innovation for society with sustainable development. Students transform oyster shells waste to be a product that can be sold and generate income to the community."
The product of the winning team, "Mitr" team, is "Brick Tough Tough" and "Sparkling Walkway". The product is a brick block that consists of oyster shells and concrete. This glowing brick block can be used for decorating the garden, and for construction. Moreover, the product is lighter than other products in the market. This brick block also absorbs less water and is flexible so it is not slippery and can be produced in various shapes and sizes.
Narongkorn Phibanchon, Assistant of Ban Trakad Ngow Community's Head, says that "Oyster shell wastes have been a problem for our community for a long time. We are glad that Nissan and students came to help us manage these wastes. Their work not only solves the problem but also creates a positive impact on the community. We will continue working with students to produce a real product."
"Mitr" team has received 250,000 Baht as an educational fund and 50,000 Baht for the university from Nissan Motor Thailand.
"We have to thank Nissan for helping us understand what innovation for society is through Nissan's Honor the King's Legacy project 2020. We are very proud to be a part to develop the community and see changes that our innovation created", said Kanyarat Boonyeamthanadee and Kanchana Korthong, team members of the "Mitr" team.
The first runner up team is "Klum Jai" from Chiangmai University. This team created packaging from plastic waste for Ban Nam Sai community, Chanthaburi. This innovation can be used in various ways, including for packaging that protects durians during the transportation. Moreover, the product is reusable.
The second runner up team is "The Glab Craft" from King Mongkut's Institute of Technology Ladkrabang. The product that this team created is appliances made from different forms of plastic waste called "Sai Craft", including sealing clip and phone stand holder. These products are made from 7 plastic bottles. Some partial income will be donated for planting  trees in Ban Nam Sai community, Chanthaburi province.
"Congratulations to 6 winning teams that were a part to create innovative ideas to deal with waste problems sustainably and conserve the environment of Thailand in the long run", said Nithit Thanamoon, Member of Subdistrict Administrative Organization of Tung Benja. He also says that Nissan's Honor the King's Legacy project taught us to mutually help and share information to create these products. We have to thank Nissan Thailand for introducing the project to us and other communities to help develop a sustainable model community.
The final round of the Honor the King's Legacy project 2020 took place in Chanthaburi on 13 March. 6 finalist teams presented the prototype products that they have been working with the community for 5 months. They presented their product to more than 20 journalists, community head, officers from government agencies, and president of Nissan Motor Thailand.
Dr.Poramet Chumyim, Senior Advisor and Manager of Food Innopolis program, National Science and Technology Development Agency (NSTDA), thanked the community for providing a natural research place to Nissan and students for the last 5 months. He says that "I saw the evolution of 6 prototype products that the community can use and sell for extra income. I admire all sectors that helped this project to be a sustainable development model that creates benefits for Thai society."
The Honor the King's Legacy project started in 2017 in order to carry on and adopt the sufficiency economy teaching of King Bhumibol Adulyadej. This year, the project focuses on assisting the community and encouraging students to create innovation for the community to serve community's needs and solve the community's problems. The aim is to enhance the quality of life in the community.