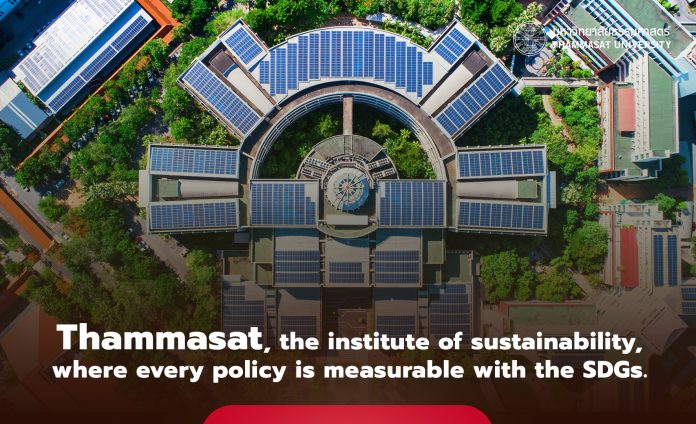 Thammasat University (TU) continues to move forward with the policy to continuously drive sustainable development by adopting the SDGs as a guideline for practice and combining with every university policy.
​​Associate Professor Gasinee Witoonchart, Rector of Thammasat University, said, "The United Nations has set 17 goals for achieving the SDGs which cover all social, economic and environmental dimensions that creates the well-being of the world's population without leaving anyone behind. In which Thammasat University has been impelling the SDGs to be a part of the university goals since 2015."
"We intend to build TU to be the main driving force of both the Thai and international sustainable development goals. We integrate the SDGs into the administration of all faculties and all educational centres, and the SDGs are also included in the course curriculum in order to develop students' abilities to be a change-maker, that is able to offer solutions to various challenges on a global and national level," Assoc. Prof. Gasinee stated.
Thammasat University has earnestly driven this matter and has set up a committee to formulate policies on the SDGs, chaired by Assoc. Prof. Gasinee herself. It has also established a working group as a mechanism to impel forward the sustainable development goals in various fields by providing guidelines for all faculties and also providing budgets and resources to support policymaking.
The committee has set the drive for the SDGs with 4 missions:
1. To foster a sustainable university in all educational centers, providing students and university personnel access to a good environment, green areas, acquiring complete nutrition at a reasonable price, using clean energy to reduce greenhouse gas emissions, and creating a communication space that promotes diversity of identity, culture and political perspectives.
2. To support research that provides researchers with freedom of thought and create useful innovations and drive for the sustainable development goals.
3. To encourage all faculties to collatively work with the government and non-university organizations to make the achievement of the SDGs a reality.
4. To provide freedom to students and promote participation in university development in developing a curriculum that integrates the concepts of the SDGs, encouraging students to become change-makers as global citizens.
"We believe that the SDGs are a way to make our university, students and personnel a part of solving the challenges facing by the country, meeting the goals of the university and preparing personnel in forming good global community and having a sustainable future," Assoc. Prof. Gasinee concluded.