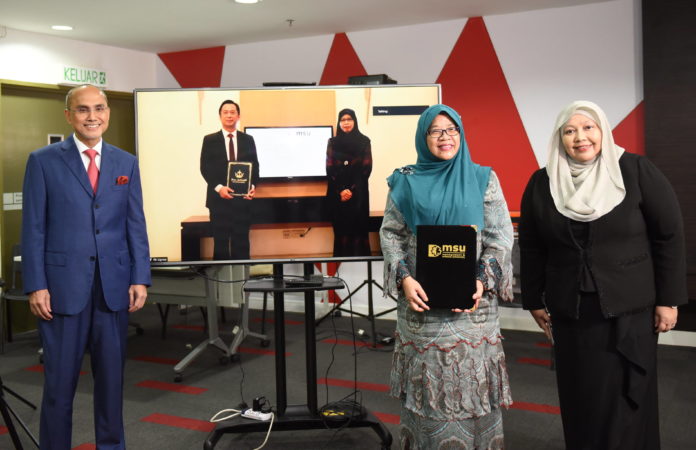 Management and Science University (MSU) has formed yet another global collaboration with its recent signing of an MoU with Politeknik Brunei (PB).
Establishing a basis of direct cooperation encompassing research, education, training, and mobility, the Memorandum of Understanding is set to benefit both students and staff at the two institutions of higher education.
The MoU signed virtually at MSU's main Shah Alam campus and PB's in Bandar Seri Begawan proposes exchanges of students, faculty, and staff, internships, as well as joint conferences and academic programs.
Present for the signing at the MSUTV Studio on Level 15 of the MSU Management Tower were MSU President Professor Tan Sri Dato' Wira, Dr Mohd Shukri Ab Yajid as standing witness, and MSU Vice-Chancellor Professor Puan Sri Datuk Dr Junainah Abdul Hamid.
Politeknik Brunei was represented by its Acting Director Lim Kian Boon and PB's School of Science and Engineering Head Dayang Armah Tengah.