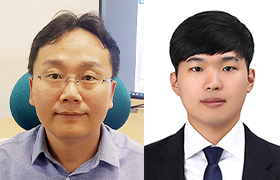 Researchers at Kyungpook National University have developed a next-generation semiconductor electronic device with the world's best operating speed that can be used as key materials and parts in next-generation mobile communication technology (B5G & 6G) and quantum computing technology.
Professor Dae Hyun Kim and Dr. Hyun Bin Cho of the Department of Electronics Engineering at Kyungpook National University developed the world's fastest 738 gigahertz (GHz) high-electron-mobility transistor (HEMT)* electronic device through joint research with QSI, a small and medium-sized enterprise.
The frequency of cut-off (fT) that determines the operating speed is 738GHz, which implements the fastest speed in semiconductor electronic devices with a field-effect transistor (FET) structure. This is expected to enable at least 10 times faster communication than current 5G systems.
"The development of high-performance and multifunctional semiconductor electronic devices is essential for the implementation of next-generation mobile communication systems such as the upcoming 6G," said Professor Dae Hyun Kim.
It is expected that this research result will speed up the miniaturization, aggregation, and high performance of Terahertz (THz) band electronic systems.
"It can also be used as a key semiconductor device component that identifies fine quantum signals of Quantum computing* systems that are being studied by world's leading companies such as Google, IBM, and Intel," explained Professor Dae Hyun Kim.The research results were presented at the International Electron Devices Meeting (IEDM), the world's most prestigious semiconductor-related conference held on December 18 last year. The work has been supported by the Ministry of Science and ICT's Global Key Talent Training Support Project (IETP) and the Civil-military Cooperation Promotion Agency.