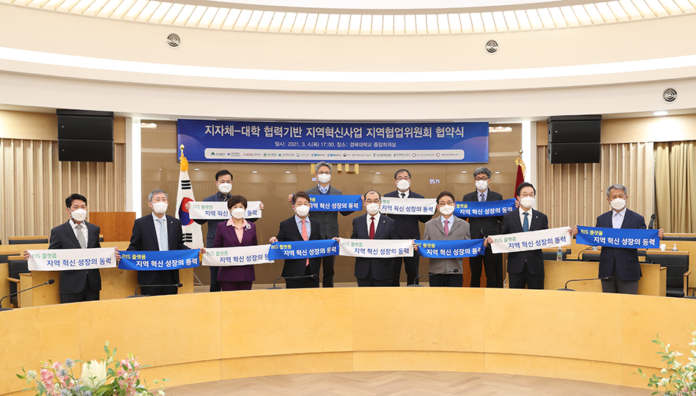 Kyungpook National University held an agreement ceremony on March 4 at the main conference room of Kyungpook National University main building to form a "Regional Cooperation Council" to jointly promote the Ministry of Education's "Local Government -University Cooperation-based Regional Innovation Project."
The regional innovation project is a project by the Ministry of Education to support various regional innovation entities in the region, including universities and local governments, to establish a "regional innovation platform" to promote regional innovation plans.
It is a large national project that will cost 68.6 billion won (including 30percent of local expenses) in 2022. The Ministry of Education, which started a business competition in February, is planning to select a multi-platform in May.
The "Regional Cooperation Council" is an organization that deliberates and resolves major matters of regional innovation projects, with Young Jin Kwon, the Mayor of Daegu, Cheol Woo Lee, Governor of North Gyeongsang Province, and, Won Hwa Hong, the President of Kyungpook National University co-chairperson.
Thirteen regional innovation institutions including Daegu University, Daegu Metropolitan Office of Education and Gyeongsangbuk-do Office of Education, Daegu Chamber of Commerce and Industry, Gyeongbuk Chamber of Commerce, Daegu·Gyeongbuk SMEs and Startups, Techno Park, and the Center for Creative Economy and Innovation, will participate.
Through this agreement, local universities, local governments, and local innovation institutions, led by Kyungpook National University, will declare the full-fledged implementation of the project and cooperate with each other for regional development and innovation.
When the project is selected, local governments, universities, and various industrial innovation institutions will establish a platform to select key areas that meet the regional mid-to-long-term development goals, and universities in the region will carry out various tasks.
Won Hwa Hong, president of Kyungpook National University, said, "We will foster innovative talents in key areas through regional innovation projects to encourage young people to settle in the region, and strengthen regional economic and industrial competitiveness."