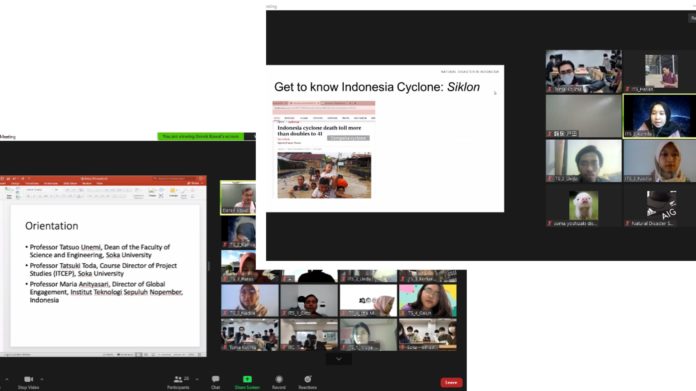 The global pandemic does not halt the Institut Teknologi Sepuluh Nopember (ITS) from advancing the global competency and its internationalization mission. Through the Directorate of Global Engagement, 12 ITS students participated in the course of Soka University, Japan, in the Project Studies (International Technical Cooperation EP) program.
Formerly, for two years in a row, the collaborative project between ITS and Soka University program was held on-site through English Boot Camp and Community and Technological Camp (CommTECH) programs. In the English Boot Camp, the students from Soka University were involved in a series of English learning activities from the Centre for Languages and Cultures ITS.
The Japanese students also had a chance to practice directly what they were learning by having fun science experiments with elementary school students where they guided and taught science to the kids in the English language. Meanwhile in the CommTECH 2020 Exploration, along with Japanese students from other universities, Soka University students discussed and explored the disaster issue as well as its mitigation in Indonesia.
Conducted before the pandemic strikes, the participants were able to execute their ideas and projects directly on-site. Unfortunately, the current collaboration of ITS and Soka University in Project Studies (International Technical Cooperation EP) must be held virtually due to the current restriction of mobility.
In the course that will be on the run from October 2020 to January 2021, the Soka University Students discussed four big issues of Indonesia which cover natural disasters, environmental problems, social & infrastructure problems, and IT situation. The involvement of ITS students in the course plays a significant role as they become the main source of information and respondents who understand the real condition of Indonesia.
Connected virtually through the Zoom platform, ITS students are divided into four groups with Japanese students. They explain the kinds of problems and its causes, the impacts, preventing actions, and local authorities that handle the four aforementioned issues.
In this session, Japanese students are given a safe space to voice their ideas and questions to the Indonesian students. Later on, the ITS students actively provide information and answers that hopefully can help Soka University students to understand the issues of Indonesia.
Even though at this program Soka University students do not have the opportunity to implement their ideas directly as in the previous years, the innovation and solution that they propose are manifested in the presentation, poster, and final report. Subsequently, the students of ITS validate and make sure their ideas and solutions are convenient and compatible to be implemented in Indonesia.