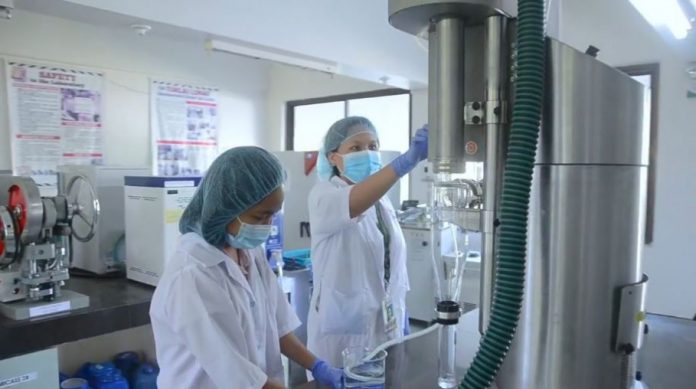 The Department of Science and Technology (DOST) has approved the Php 9.5-million fund for the third year of the Mariano Marcos State University's (MMSU) project to develop anti-inflammatory herbal products from five Iluko indigenous plant species (IPs).
In a virtual conference last May 18, 2021, DOST's Philippine Council for Health Research and Development (PCHRD) granted the MMSU's Tuklas Lunas Development Center (MMSU-TLDC) with the said fund to continue embarking in the development of anti-inflammatory herbal products from nontoxic, bioactive extracts from IPs.
The grant includes a carry-over budget of almost PhP 2.2 million unexpended amount from last year.
Based on the results of the first project, extracts from five IPs labelled as MMSU-0001, MMSU-0004, MMSU-0024, MMSU-0031 and MMSU-0034 are potentially good to be developed as herbal drugs, based on their safety profile and anti-inflammatory bioactivity confirmed through in vitro assays.
With this, MMSU now aims to develop standardized, safe, and effective herbal products in prototype oral (tablet or capsule) and topical dosage (cream, ointment or gel) forms from the spray-dried extracts of the five IPs.
The project team further intends to forward these prototypes to preclinical and clinical development to ensure that these products will meet the regulatory requirements of the World Health Organization (WHO) and Food and Drug Administration (FDA) on herbal medicines.
"We have to aggressively advance the use of plant-based medicine as it offers less lethal side effects if compared to synthetic drugs," said MMSU President Shirley C. Agrupis who serves as the project leader.
She added that since the project involves IPs in Ilocos Norte, a new industry in the province can flourish where local farmers may provide the raw materials and process the manufacturing of herbal products.
Prof. Anabelle B. Alejo, TLDC chief, added that the program "may lead us to market an affordable, quality, safe and efficacious herbal drug or supplement."
Other members of the team include Ms. Maingelline B. Vivit and Prof. Kristian Gay D. Beltran, project staff, and Ms. Riena Kristen Agustin, research assistant.
Simultaneously, the team is partnering with the experts of Pascual Laboratories, Inc. for the second component project under the program which is the chemical standardization of the raw materials produced and formulated dosage forms.
It could be remembered that DOST also gave a Php 12.3-million-fund last 2018 to start the first project and Php 11.9 million on May 2020 to launch the third project on formulation.
DOST's Tuklas Lunas program, together with MMSU-TLDC, envisions to produce quality, safe, and effective herbal medicinal products derived from Philippine biodiversity.