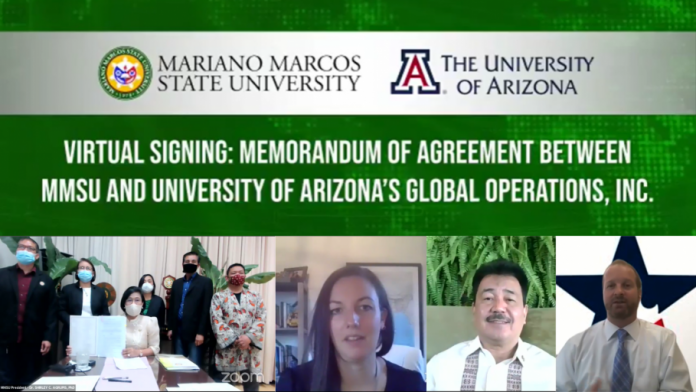 The Mariano Marcos State University (MMSU) and the University of Arizona (UA) in the United States have agreed to establish the first micro-campus in the Philippines this year in order to bring global educational opportunities to Filipino students.
MMSU is the first Philippine university that has become a member of the UA's world campus network, joining the top world universities implementing the American Degree Pathway (ADP) and Global Campus Experience (GCE) programs.
This partnership was formalized through a global direct agreement between MMSU President Shirley C. Agrupis and UA Global Operations Chief Executive Officer Brent White through a virtual program held on Monday, February 8.
The ADP program enables incoming students to earn up to two years of direct, undergraduate credits from UA through a mix of in-person and online courses offered through a micro-campus. It includes multiple academic pathways which will enable students to take courses that will satisfy UA's degree requirements or transfer to other US universities.
On the other hand, GCE program offers over 60-degree programs delivered fully online in English by UA professors, with student access to micro-campus' facilities and services, providing a unique in-person college experience, with the convenience of online education.
Hillary Vance, Senior Director of Southeast Asia UA Global, represented White in the virtual signing of the agreement. She hopes the new partnership can help MMSU in advancing its academic excellence, research and global engagements, thereby achieving its vision to become a Philippine premier university by 2028.
"It is thrilling that MMSU is now our first Philippine university partner in the world campus network, and we look forward to expanding our partnership with you in the years to come," Vance said, adding that the collaboration also includes new initiatives in research and educational exchange between the students, faculty, and staff of the two universities.
For his part, Commission on Higher Education (CHED) Chairperson J. Prospero E. De Vera III congratulated MMSU and UA Global Operations for the new partnership, saying that "the establishment of an international micro-campus in collaboration with an outstanding Philippine public university is a first of its kind."
De Vera said the pact between the two schools is in line with the Republic Act 11448 or the Transnational Education Act, which is designed to accelerate partnership between Philippine and international universities, thus providing access to quality global education standards, services, and scholarships.
Expressing support to the partnership, De Vera also hopes that through the initiative, MMSU will soon join the Asian Ranking of Universities in the future.
Matt Keener, Cultural Attaché of the US Embassy Manila, said the partnership between MMSU and UA "sets the bar for Philippine universities and leading the way in providing new opportunities for Filipino students," adding that it is essential for the youth to have international education in the face of the increasingly competitive global economy.
With the new pact, President Agrupis expressed joy and gratitude because "this is the first agreement that MMSU has entered into with one of the US top public universities this year, with the aim of upholding academic excellence and internationalization."
In the agreement, UA will provide MMSU with the following: special discounted rates; large selection of top-ranked Arizona online courses; professors to teach online courses; academic advising and support; access to its Center for English as a Second Language; and connection to the Arizona main campus through "Arizona live".
Also, MMSU has agreed to give the following: access to its campus and facilities; inclusion in its students programming and activities; the opening of opportunities for social networking and community building; on-ground tutors and academic support; navigation of regulatory environment and assistance securing all necessary approvals in its host country; marketing, recruitment, and enrollment advising; reporting and payment of taxes for its taxable program revenue; and miscellaneous logistical support.
Established in 1885, UA is widely recognized as a top-ranking university worldwide. As an institution, it aims to advance and introduce interdisciplinary scholarship and entrepreneurial partnerships and attempts to redefine "global university" in the 21st century with an expanding network of global partners. -with reports from Daniel P. Tapaoan, Jr.