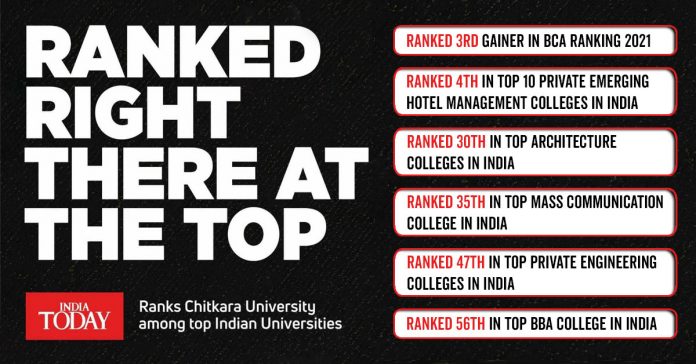 Chitkara School of Hospitality has been ranked 4th in 'Top 10 Private Emerging Hotel Management Colleges in India' and 23rd in 'Hotel Management Colleges in India'.
Chitkara University Institute of Engineering and Technology (CUIET) has been ranked 46th in 'Top BCA Colleges in India' and 47th in 'Top Private Engineering Colleges in India'. Chitkara School of Planning and Architecture (CSAP) has been ranked 30th in 'Top Architecture Colleges in India'. Chitkara School of Mass Communication (CSMC) was 35th in 'Top Mass Communication Colleges in India' and Chitkara Business School (CBS) was ranked 56th in 'Top BBA Colleges in India'.
Colleges were ranked across 14 streams-arts, science, commerce, medical, dental, engineering, architecture, law, mass communication, hotel management, BBA, BCA, fashion and social work. India Today has partnered with the reputed Delhi-based market research agency Marketing and Development Research Associates (MDRA) to rank colleges across 14 streams.
The agency created 112 performance indicators in each stream. Intake Quality & Governance, Academic Excellence, Infrastructure & Living Experience, Personality & Leadership Development, and Career Progression & Placement were the five main factors that were used to group these variables.
They also tried to figure out how universities prepared for the pandemic. MDRA evaluated universities using current-year data in order to provide realistic, relevant, and accurate information. Between December 2020 and June 2021, the groundwork was completed.