Fourth-year BBA students from the Faculty of Commerce and Accountancy, Chulalongkorn University, have won the Thailand Social Case Competition 2021.
Organized by AIESEC in Thailand, the competition was held to encourage students to present innovative and practical ideas to solve social problems in the country, while at the same time coming up with solutions that are in line with the Sustainable Development Goals (SDGs). This year 225 teams from 20 academic institutions joined the competition.
The "401 Consulting" team members included Miss Nattaya Jaruvekin, Miss Phimlaphas Munikanond, Miss Natrida Apairatana and Miss Pimlaplus Chatvattananon. In the first round, the team presented a business model that offered jobs for the homeless, which is a major issue in Thailand, and reduce food waste problems.
Miss Nattaya Jaruvekin revealed that in the final round, the team selected the case study from Nestlé (Thai) Ltd. to up-cycle the PET plastic water bottles into a new product that can benefit society. Turning plastic bottles into school uniforms is very challenging, but the competition has shed light on the real issues of plastic waste, the behaviour of plastic water bottle consumers, and the path of trash.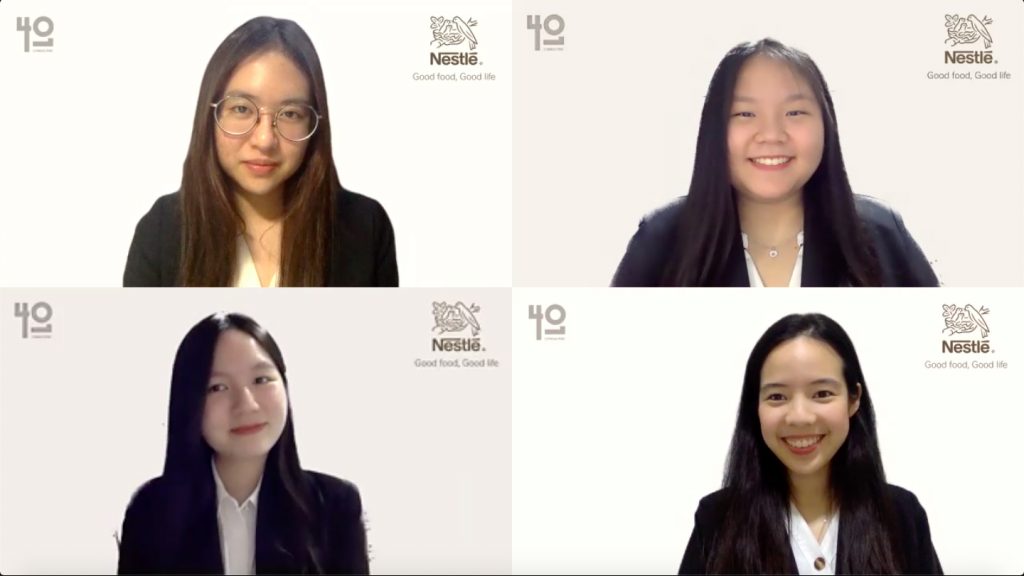 "We're very proud that our efforts have added to the university's name. The four of us have put a lot of effort in this competition.  With the positive results and the feasibility of our business plan, I think we have impressed the judges, making them see that our team deserved the winning prize. This competition has opened us to new knowledge, solving problems related to sustainability and inequality in society, as well as learning about the up-cycling system of PET bottles and up-cycled products", Nattaya concluded.