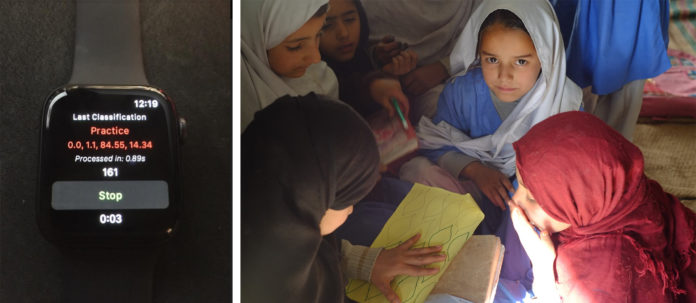 For disadvantaged school children, improving the quality of education they receive can have a life-changing impact, making global improvement of education one of the United Nation's Sustainable Development Goals. One way education quality can be improved is through classroom observation and evaluation, in line with international best practices. However, for underprivileged schools across the world, the costs associated with such classroom observations are often prohibitive.
Researchers at the American University of Sharjah (AUS) are tackling this problem, developing technology for smartwatches that substitutes the role of a physical observer. Professor Imran Zualkernan of AUS' College of Engineering has been creating an app that can channel real-life classroom experiences into observational reports. Such reports would otherwise need to be generated by a real-life classroom observer—increasing costs and potentially leading to biased results.
By having a teacher simply wear a watch, the new technology can automatically provide real-time monitoring of classrooms, providing greater visibility of classroom practices. Such data is valuable for providing feedback for teachers, allowing them to improve their pedagogy, and thereby the outcomes of their students.
The app uses convolutional neural networks (computing systems that are loosely based on the biological neural networks that inspire brains) to collect information through the watch. This information is then converted into data that can be utilized by the internationally recognized classroom observation method, the Stallings System.
This system, also known as the Stallings Classroom Snapshot, produces quantitative data about the interactions of teachers and students in classrooms. It has been used extensively by organizations since its introduction in the 1970s, including the World Bank.
Dr. Zualkernan's research is attracting positive attention, with a paper detailing the findings of the research receiving the "best paper" award at the recent Artificial Intelligence for Good Conference held in conjunction with the Good Global Summit.
The conference and summit were the initiative of the Institute of Electrical and Electronics Engineers (IEEE) and International Telecommunication Union (ITU). The research has also received two AUS Faculty Research Grants, one for the 2018–2019 academic year and one for the 2020–2021 academic year.
For Dr. Zualkernan, improving educational outcomes for some of the world's most disadvantaged children is the main driver behind his work.
He says, "Educational quality and inclusion are sometimes compromised in Sub-Saharan Africa and South Asia, where the number of school-age children is rising every year. It is therefore imperative that we find solutions that improve education for this group of children."
"Embedding observational systems that need little expertise and are of a low cost will play a fundamental role in improving teaching, and thereby learning, at scale."