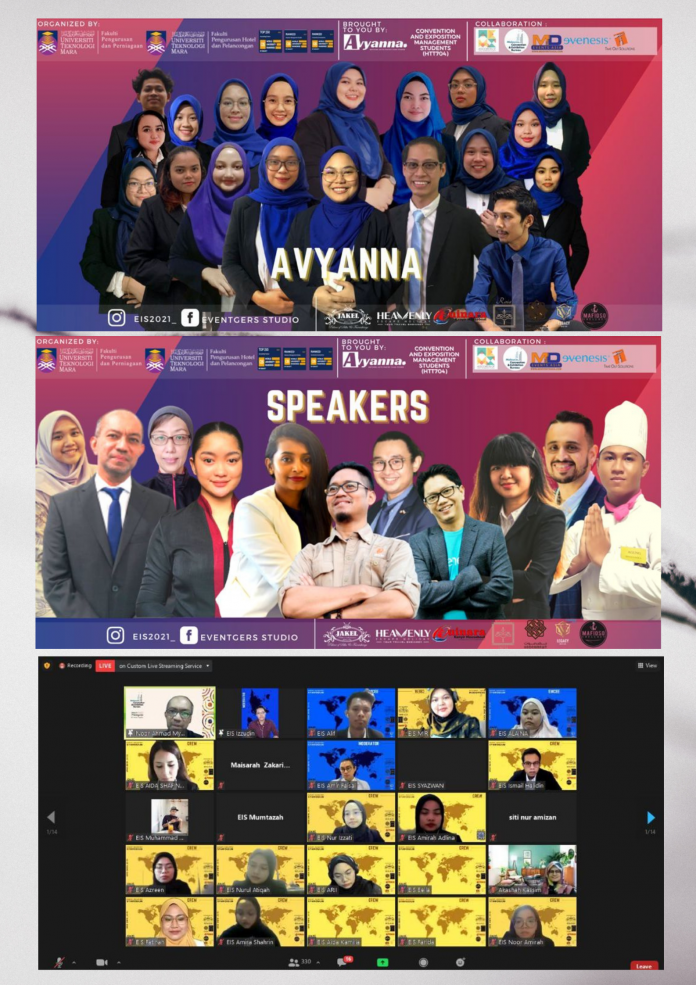 A group of students from Bachelor of Event Management, Faculty of Business and Management, Universiti Teknologi MARA (FBM-UiTM) organized the Event Industry Symposium 2021 as their final year project.
This symposium brought together those who are in the event management industry namely industry experts, graduates, students and educators to discuss the impact of the COVID-19 pandemic on the event management industry, particularly in Malaysia.   This event not only involved local industry experts, panels from abroad were also invited to share their thoughts on this issue and provide possible solutions in reviving the event industry from the upheaval of the COVID-19 pandemic. T
This event also exposed the students and graduates to the "ins and outs" of the industry as well as established networks among the experts in the industry and government bodies.
This Event Industry Symposium 2021 was virtually held on 12th-13th June 2021 and it was aligned with the United Nations' Sustainable Development Goals (SDG9) which focuses on industrial development, innovation and infrastructure. It received overwhelmed responses from the public and industry players, reached over 8,000 views on Zoom, Facebook and YouTube.
The besieged entries were received from diverse institutions including Human Resource Development Fund (HRDF), Panta Rei Indonesia, Evenesis, MD Events Asia Sdn.Bhd, Malaysia, Convention and Exhibition Bureau (MYCEB), Malaysia Association of Convention and Exhibition Organiser and Suppliers (MACEOS), American Society of Association Executives (ASAE) Asia Pacific, Time Out Solutions, Asia Pacific Federation of Association Organizations (APFAO) and The Pacific Asia Travel Associations (PATA) from New Zealand. The event was also well received by the international students with entries from Taylor's University Malaysia, The Pacific Asia Travel Associations (PATA) from the Philippines and Indonesia.
The success of this Event Industry Symposium 2021 was based on collaborative efforts from various parties. It was led by those 19 students from the Convention and Exposition Management class (HTT704), assisted by the Association of Event Management Students (AEMS) and guided by their advisors and senior lecturers; Nurakmal Ramli and Azzura Nordin.
While, companies such as Jakel, Heavenly Escape Holiday, Quinara Kenyir Houseboat, Raia Hotel, Hadramawt, Mafioso Shellout and Coway Legacy sponsored this event. Due recognition for the success of the event should also be given to UiTM executive management, in particular the Dean Faculty of Business and Management, Professor Dr Noryati Ahmad and the Dean Faculty of Hotel and Tourism Management, Professor Dr Mohd Salehuddin Mohd Zahari for officiated the opening and closing ceremony for this Event Industry Symposium 2021.