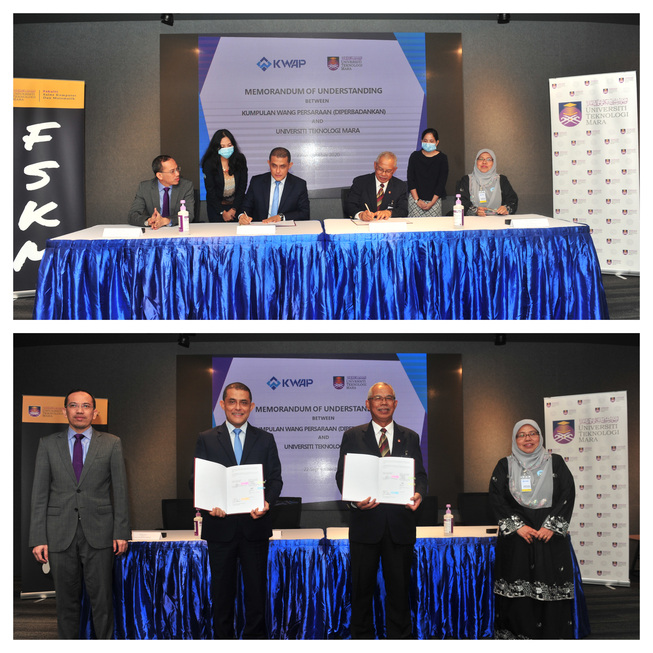 Faculty of Computer and Mathematical Sciences (FSKM), Universiti Teknologi MARA (UiTM), Malaysia, signed a Memorandum of Understanding (MoU) with the Malaysian Public Sector Retirement Fund (Kumpulan Wang Persaraan, in short, KWAP) in September 2020 at KWAP's office in Kuala Lumpur, Malaysia. The memorandum was signed by UiTM Vice Chancellor, Emeritus Professor Datuk Ir Dr Mohd Azraai Kassim and KWAP Chief Executive Officer Syed Hamidah Syed Othman.
UiTM and KWAP have mutually agreed to have collaboration and exchange of knowledge expertise and specialities specifically in the field of mathematical and actuarial sciences. Both parties also agreed to have an exchange of knowledge in the field of data and computer science that would be applicable and relevant to facilitate KWAP in enhancing its data management and analytics capability. In addition, KWAP also agreed to accept the undergraduate and graduate students from UiTM for industrial attachment. Based on mutual interest in matters related to UiTM and KWAP, both parties agreed to co-organize conferences, short courses, and meetings.
Emeritus Professor Datuk Ir Dr Mohd Azraai Kassim highlighted, "The agreement between two parties will pave the way for UiTM's effort to stay advanced with latest development and issues involving social security and financial planning". He added "the signing of MoU will create more future talent with skills on better investment planning for assets and liabilities matching.
Syed Hamadah Syed Othman said that "UiTM had a track record of educational excellence with a dynamic network and the collaboration between both parties, and definitely will contribute to KWAP especially in terms of its business requirements". This involves quantitative and qualitative analysis in research work such as risk modeling, investment management, and retirements benefits liability valuation.
He also added, "KWAP will take part in enhancing knowledge on financial planning and retirement preparedness with UiTM's network with an aim to promote knowledge building as well as provide attachment programs".