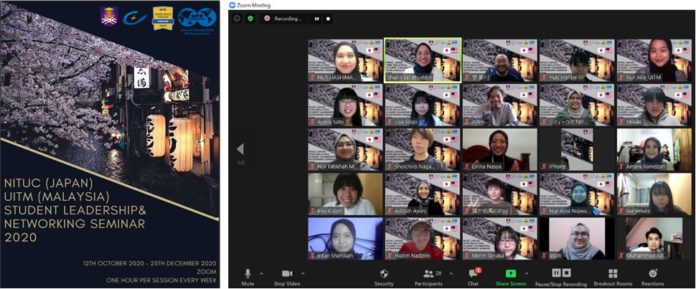 Society of Petroleum Engineers – Universiti Teknologi MARA Student Chapter (SPE-UiTM SC), Malaysia and National Institute of Technology, Ube College, Japan have recently established an esteem international collaboration by organizing a UiTM (Malaysia) – NITUC (Japan) Student Leadership & Networking Seminar 2020.
This mobility program was held virtually via the Zoom platform for 11 weeks from 12th October 2020 – 24th December 2020. 17 inbound students from the NITUC and 17 outbound students from the Faculty of Chemical Engineering, UiTM participated in it.
The participants were divided into 14 groups and led by two student leaders, Ms. Shalin Sellehuddin, from UiTM, and Ms. Ena Kidani from NITUC. Five advisors, Ts. Dr. Nur Hashimah Alias, Ir. Ts. Dr. Nur Hidayati Othman, and Dr. Nor Roslina Rosli from the Faculty of Chemical Engineering, UiTM and Ms. Siti Aisyah Mokhtar, and Prof. Dr. Hatamura Manabu from NITUC have assisted the program.
This program aims to strengthen the international networking between two institutions besides facilitating the students from both countries with communication skills and proficiency in English and Japanese languages.
It serves as a platform to expose students to the history, cultures, and traditions of Malaysian and Japanese. Through this program, the students enjoyed teaching, and learning a third language via weekly modules, sharing ideas, and exchanging experiences about their courses in the universities.
All the participants were allocated around one hour per week for the seminar and were free to attend the group meeting at a convenient time. During the closing ceremony, all the students were required to present their outcomes throughout the seminar. Besides using social media platforms, they also exchanged postcards as a way to keep in touch with buddies.
With the huge success and overwhelmed responses, the 2.0 UiTM (Malaysia) – NITUC (Japan) Student Leadership & Networking Seminar 2021 is scheduled to be held in April 2021.