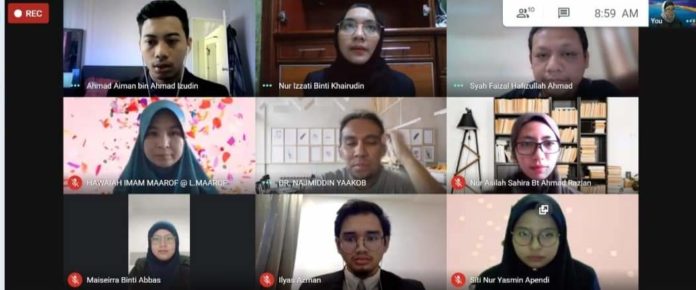 COVID-19 required people to change the nature of their social interactions. Higher education has been massively affected by this epidemic. The universities had to postpone physical attendance and face-to-face lectures. However, the learning institutions quickly adapted and moved their learning and lecturing processes to digital platforms.
The use of internet technology for higher education in Malaysia is not a new thing. For example, in Universiti Teknologi MARA (UiTM), the online education method has been allocated at as much as 30% since 2010. Various learning platforms such as Moodle and Google Classroom have been activated, but UiTM also has its own platforms such as i-learn and u-future.
Faced with this health crisis, UiTM is willing to take full advantage of the method of online education. COVID-19 pandemic has been the main driving factor that influences most universities in Malaysia to take advantage from the use of online technology.
Other than the learning process, various seminars, courses, and training also take full advantage of online technology. Student associations are also actively conducting activities that sharpen the skills and leadership by making full use of internet technology.
The same goes for international student mobility and the globalization of education. The COVID-19 outbreak did not stop UiTM, especially the Faculty of Chemical Engineering (FKK) from staying proactive to establish more bilateral cooperation with foreign universities including Indonesia, China, United Kingdom, Germany and Australia through Memorandum of Understanding (MOU) and Memorandum of Agreement ( MOA) which are conducted online to highlight internationalization activities.
In this pandemic situation, FKK has targeted international networking activities by carrying out as much virtual cooperation as possible which not only saves money but also time. Diponegoro University, Syiah Kuala University, Sebelas Maret University dan Semarang State University from Indonesia have partnered with FKK in a student exchange program.
A total of 23 students from Indonesia and 18 students from FKK have been involved in this program for the year 2020. FKK has also involved the lecturers to provide virtual lectures to these universities.
In addition, the collaboration of research supervision involves multiples universities such as Hochschule Hannover (Germany), Semarang State University, 11 Maret University, Syiah Kuala Acheh University, Diponegoro University (Indonesia), Imperial College London, University of Leeds (United Kingdom) and Nanjing Forestry University (China) is intensified and enhanced through  online means.
FKK wants to ensure that the exposure of students and researchers at the international level continues to put UiTM, especially FKK at the global level.
UiTM, especially FKK remains active in implementing internationalization programs, student mobility, and online learning despite being constrained by the COVID-19 pandemic. Although there are major differences to learning and research activities done through physical and face-to-face methods, however, the challenges faced should be calmly and positively overcome.
The COVID-19 pandemic is not a reason for educational and research activities to remain active. Undoubtedly, we have lived in the new norm patiently in the era of health crises that will be in the history book and as a reference to future generations.