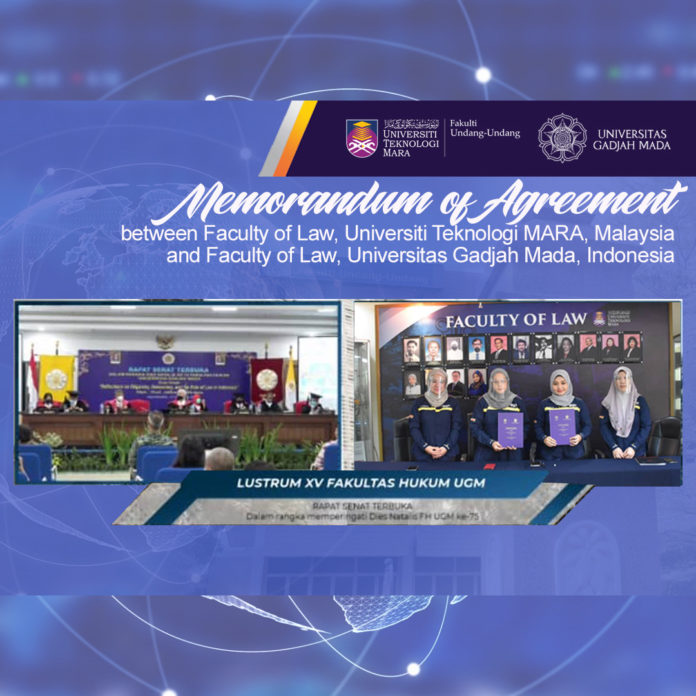 The Faculty of Law, Universiti Teknologi MARA, Malaysia (UiTMLaw) was honoured to be invited by the Faculty of Law, Universitas Gadjah Mada (UGMLaw), to officiate their Memorandum of Agreement (MoA) at the faculty level through a virtual signing ceremony during the 75th Anniversary of the UGMLaw on 17 February 2021.
The Vice-Chancellor of Universiti Teknologi MARA, Professor Emeritus Datuk Ir. Dr Mohd Azraai Kassim, has executed the MoA before the event. The ceremony was attended by the Deans of both faculties, Associate Professor Dr Hartini Saripan and Professor Dr Sigit Riyanto and witnessed by both institutions' management and lecturers.
The MoA sparks more opportunities for both institutions to venture into the new legal education realm, especially with unconstrained communication channels and inexpensive travel. It allows for partnership in various academic undertakings, thereby presenting the promise of mutual benefit to staff and students of both faculties.
In this globalised society, international collaboration programs help by providing students with the ability to study, work, and travel in an international setting via student mobility programmes. Likewise, staff exchange programmes enable staff from both faculties to enrich their teaching experience by teaching and handling a diverse audience.
Furthermore, research partnerships facilitate the ability to scrutinise, debate, and share experiences on vital legal issues from the perspective of both Malaysia and Indonesia. Other possible collaboration activities include publication, innovation and community services.
UiTMLaw believes that this collaboration will enhance the visibility of both institutions in academic circles internationally. UiTMLaw is hopeful that the excellent relationship will thrive and the prevailing bond between the two faculties will continue to flourish.