The innovations from the faculty members, researchers and staff from the Biochemistry Unit Department of Physiology, Faculty of Veterinary Science, Chulalongkorn University, have won three gold medals from the "2021 Japan Design, Idea and Invention Expo" (JDIE 2021), during 18 – 20 August 2021 in Kyoto, Japan.
Bath-substituting Hydro-Nanogel for Ill, Vaccinated or Wounded Pet Animals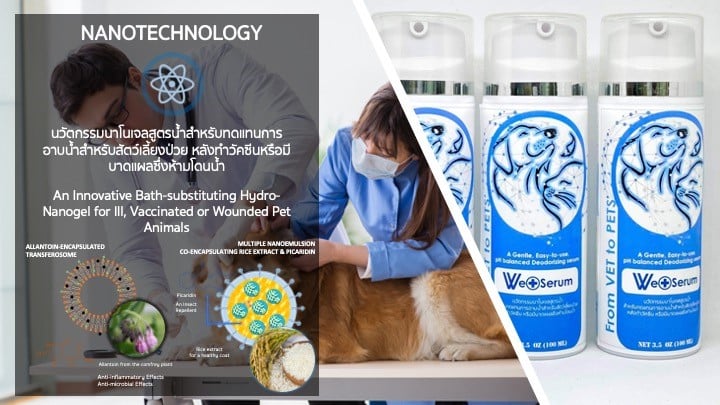 Developed by Dr. Teerapong Yata and his team, the "Hydro-Nanogel" is created to replace giving pets a bath. If a pet is sick, recently vaccinated, or has a post-surgical wound, vets sometimes advise against bathing the pet, as it may worsen the pet's condition or illness.  In such cases, the hydro-nanogel innovation can help pet owners to keep their pets clean and avoid unpleasant odors.
PhytoNano-MyoSpray: A Pain Relief Spray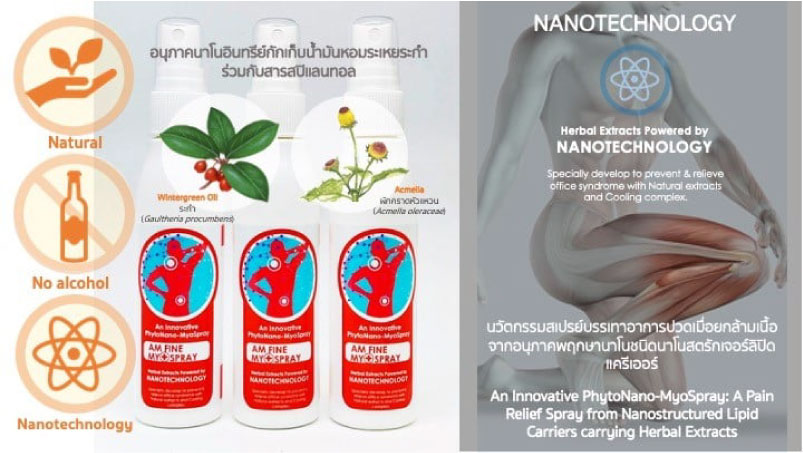 Developed by Ms. Warapron Chotisawad, Mrs. Inya Binsan, Asst. Prof. Sariya Asawakarn and Dr. Teerapong Yata, the "PhytoNano-MyoSpray" is a pain relief spray to prevent and relieve aches from office syndrome.  The innovative product contains two herbal extracts, Wintergreen oil and Acmella, that have pain-relieving qualities.  By using nanostructured lipid carriers to transport the herbal substances, the herbs can penetrate the skin more effectively and provide longer pain relief.
Acmella NanoEncapsulated Particle Facial Sleeping Mask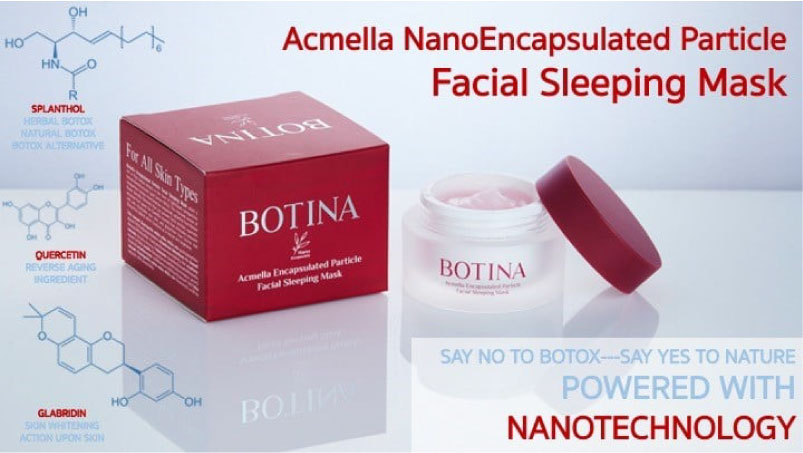 Developed by Dr. Teerapong Yata, Faculty of Veterinary Science, together with the Research Unit for Natural products and Nanoparticles, Chulalongkorn University, and TS Intertrade Company Limited, the innovative facial sleeping mask was created to reduce wrinkles.  An essential ingredient, NanoEncapsulated Spilanthol extract from Acmella oleracea, has an effect that is equivalent to Botox.  Moreover, the extract is taken from a medicinal plant, which is extremely safe, can be absorbed through the skin without the need for injection, and is cheaper than Botox injections.