Tuberculosis (TB) is a severe health threat as Global Tuberculosis Report by WHO shows that Indonesia is still one of the three countries contributing to the highest number of TB cases worldwide (2022). Its aerial transmission from infectious TB patients' droplets could infect around ten people nearby. Preventive measures are needed urgently.
Two lecturers at the Faculty of Public Health, Universitas Sumatera Utara, Prof. Dr. Sorimuda Sarumpaet, M.P.H., and Dra. Syarifah, M.S., have conducted research since 2017 on a risk reduction model of TB transmission by adding tissues, masks, and Sosa bags to the comprehensiveness of the DOTS system in the city of Medan, North Sumatra Province. The bags were named after the word "Sosa" in the Batak language (a major North Sumatran ethnic group), meaning eraser, and an abbreviation of their inventors: Sorimuda (a Bataknese) and Syarifah. The Sosa bag is a waterproof container resistant to the compound Lysol (4-chloro-alpha-phenylocresol) and functions as a disposal site for phlegm, used tissues, and masks from patients with AFB (+) Pulmonary TB. It contains 30-45 ml of Lysol (ketoprofen), which has been proven to kill Mycobacterium Tuberculosis. Sorimuda & Syarifah found a significant reduction in the risk of transmission in a group of TB patients using the Sosa bag and patented it to the Ministry of Law and Human Rights of Indonesia, which granted the Sosa bag patent No. IDS000002617. 
In 2018, Sorimuda & Syarifah modified the bag into a bottle for sputum collection and as an easy-to-carry container. The bottles are made of Tritan (BPA-free), measuring 19.5 cm in height, 6.5 cm in diameter, and 500 ml in volume. Like the bag, the bottle is resistant to Lysol compounds and functions as a disposal bin for AFB (+) Pulmonary TB patients. It comes with a compact pouch, making it portable and allowing sufferers to dispose of their waste easily when mobile. Each bottle is labeled with a health awareness message explaining its advantages as a portable disposal compartment and guidelines for handling/use. Like the previous Sosa bag, the Sosa bottle has also been granted a simple patent with No. IDS000004278.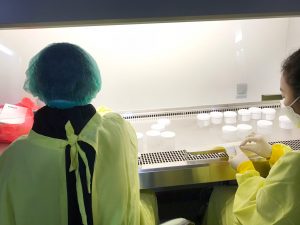 Figure 2. Sputum and Lysol effectivity test in BTKL laboratory
Tests at several health clinics around Medan and Tapanuli showed that the Sosa bottle is significantly more effective and efficient in terms of portability and reduction of pulmonary TB transmission than the Sosa bags. Their study was published in a Scopus-indexed journal with the title "Analysis of the Use of Bags and Bottle Plastic Containers and Drug Compliance Based on Drug Swallowing Supervisor (DSS) in Reducing the Risk of Pulmonary Tuberculosis Transmission" (Sarumpaet et al., 2020).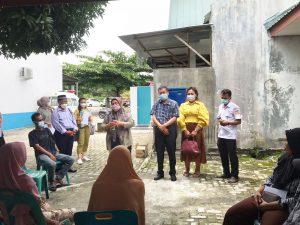 Figure 3. Education on how to use the Sosa Bottle for TB patients by the Kedaireka Team (Dra. Syarifah, MS) and staff of Selesai Health Centre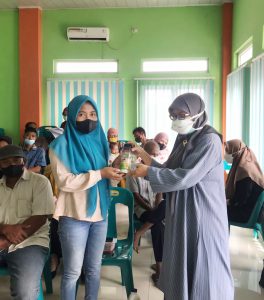 Figure 4. Distribution of the Sosa Bottle and guidebook to TB patients by the Kedaireka Team (Dr. Juanita, S.E, M.Kes) in Gebang Health Centre
Syarifah and team had implemented an innovative product for TB patients in Langkat, North Sumatra, with a Kedaireka grant from the Ministry of Education, Culture, Research, and Technology of Indonesia. They hope the innovation can help vulnerable communities to access simple and affordable means that are widely available to prevent Tuberculosis transmissions.