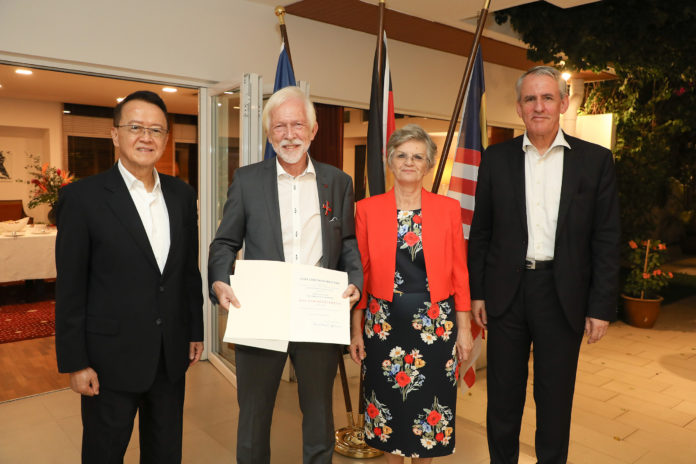 Professor Sibrandes Poppema, Jeffrey Cheah Distinguished Professor and President of Sunway University recently received The Order of Merit of the Federal Republic of Germany. The cross is awarded by the President of the Federal Republic of Germany and when given to a foreigner it is generally for improving relations between the home country and Germany. The Officer's Cross of the Order of Merit (Order of Merit 1st Class) is awarded infrequently.
"It is in fact my second award. The first one I received in 2008 from the Queen of the Netherlands, at the time of Queen Beatrix. This was the Knight in the Order of the Netherlands Lion which was awarded for my scientific achievements," said Professor Sibrandes.
The Order of Merit of the Federal Republic of Germany was instituted in 1951 by Federal President Theodor Heuss. It is the only honor that may be awarded in all fields of endeavor and is the highest tribute the Federal Republic of Germany can pay to individuals for services to the nation. In recent years, around 1,200 Orders have been awarded per year. The Officer's Cross of the Order of Merit comprises about 4% of the total number of awards.
The main motivation that was attached to the Order of Merit is the promotion of research and education relations between Germany and the Netherlands. The examples mentioned were the establishment of the international graduate school (Graduirtenkolleg) Heidelberg/Mannheim – Groningen around 20 years ago, a successful school that has been renewed and refunded several times and the European Medical School Oldenburg – Groningen, a new medical school at the University of Oldenburg established in collaboration with Groningen and employing the Groningen curriculum.
"I am truly humbled receiving this honor, realizing that so many people have done great things to promote the relations between the two countries. Therefore, I really appreciate the hard work of colleagues in the Netherlands and Germany who put the application together and submitted it to the President of the Federal Republic of Germany. Also, many thanks to the embassies in the Netherlands and Malaysia that made it possible to present the award here in Malaysia," shared Professor Sibrandes.
The award was given for promoting internationalization, and Professor Sibrandes believes that it will help Sunway to create more collaborations and exchanges with German universities, but also with the Netherlands and Canada, his two home countries that were both represented by their ambassador, resp. high commissioner.
"We at the Sunway Education Group are very happy for Professor Poppema on his being bestowed The Order of Merit of the Federal Republic of Germany. With our President of Sunway University joining the distinguished list of academics for the award, we look forward to forging better international institutional partnerships which, will benefit our Sunway academicians and students especially in terms of knowledge exchange and collaborative research projects", said Dr Elizabeth Lee, Chief Executive Officer, Sunway Education Group.