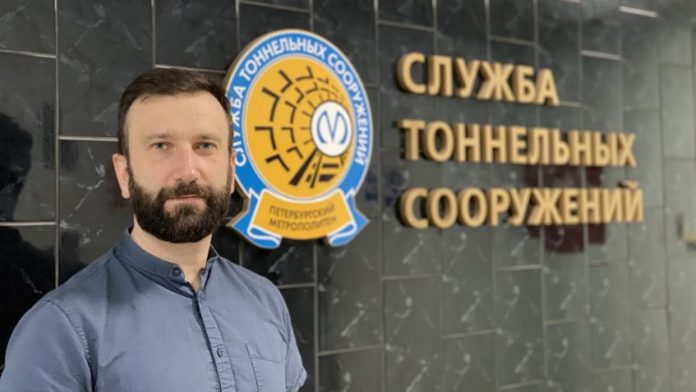 Artyom Artyomov has come a long way from once a student of St. Petersburg Mining University to the Head of the Survey Department at Saint Petersburg Metropolitan. Artyom shared his story of why he chose to study mining engineering.
Realizing the need for structural assessments of existing buildings and facilities, an operator of the Saint Petersburg Metro established the department in 2003. Many of its current employees are graduates of Mining University. And as for Artyom, he descended from a family of mining engineers. Both his parents and grandmother were academicians who worked at the university.
"My father was an Associate Professor at the Department of Blasting Work. Nowadays Mining University is cooperating with Orica, an Australian-based provider of commercial explosives, that helped open a research lab here. But even 20 years ago, the university had a lot to offer to its students. One day my father brought me along to his workplace. He held a seminar on the processes of rock destruction and explosion caused by blasting chambers. I have to say I was deeply impressed with what I saw and heard that day. All professions that interested me before – they no longer mattered. My only interest from that moment on was to become a powderman. And thas it when I decided to study mining," admits the graduate.
Artyom wanted to be a mining engineer. But upon completing his education, he changed his plans due to receiving a job offer from Metrostroy, an organization responsible for building metro stations and tunnels in St. Petersburg. 
"Mining engineers – they build mines, and we – mine surveyors – build tunnels and engineering constructions. There are some similarities, and there are differences, too. Our metro is one of the deepest in the world. So it was a fantastic experience of great value that I made use of then, and that lets me build a rewarding career now," shares Artyom.
After changing Metrostroy for Saint Petersburg Metropolitan, the Mining University's graduate joined the Survey Department. He started his career as a first category engineer, and in five years he advanced to the head of the department. 
"I am the leader of the team of 10 survey engineers. What we do is check the technical condition of sub-surface and surface facilities of the metro system. We determine how badly they are affected by external impacts. And based on it, advise on how safe it is to operate them onwards. To put it differently, we provide information on whether repair works are essential and what kinds of work need to be done. We also inform if the start date can't be postponed or, if it can, for how long it can be suspended," notes Artyom.
According to him, from 10 to 40% of engineers working at the organization are the Mining University's graduates, with an actual figure varying from department to department. Many are either surveyors or geodesists. Some studied 'Mine and Underground Construction', some chose such program as 'Construction of Sub-Surface Facilities'. Among Artyom's colleagues are former students who underwent their internships at the Metro and then decided they wanted to work there. Graduates of such faculties as 'Applied Geology' or 'Mining Engineering' are also employed at the state municipal company.
Inspired as a child by his father's presentation, Artyom completed the 'Blasting Work' program. Yet the high quality of education he received allows him to work effortlessly for the company managing the city's metro system. 
Cooperation between Saint Petersburg Metropolitan and Mining University extends beyond the area of education.
"The university is an important partner for us. We may not be a scientific organization, but we stay in touch with scientific communities. Furthermore, sometimes we need outside help – for instance, cannot perform surveys on our own, or need an additional expert opinion. When we face these issues we often reach out to Mining University," says Artyom.
The Russian fellow, a former student of Saint Petersburg Mining University, is happy to be where he is now and work for the Metro. As he proudly notes, "Saint Petersburg Metropolitan is one of the world's safest and easily accessible rapid transit systems, equipped with video surveillance, facial recognition and accident prevention systems."