For Professor S. Joe Qin, the new President of Lingnan University in Hong Kong, there was a special reason to attend the recent high-profile event organised by the IEEE (Institute of Electrical and Electronics Engineers).
He had been invited to receive the IEEE CSS (Control Systems Society) Transition to Practice Award, a prestigious honour which recognises outstanding collaborative scientific interactions between industry, research laboratories and the academic community.
This year's presentation ceremony took place during the 7th IEEE Conference on Control Technology and Applications (CCTA), held in Barbados in mid-August.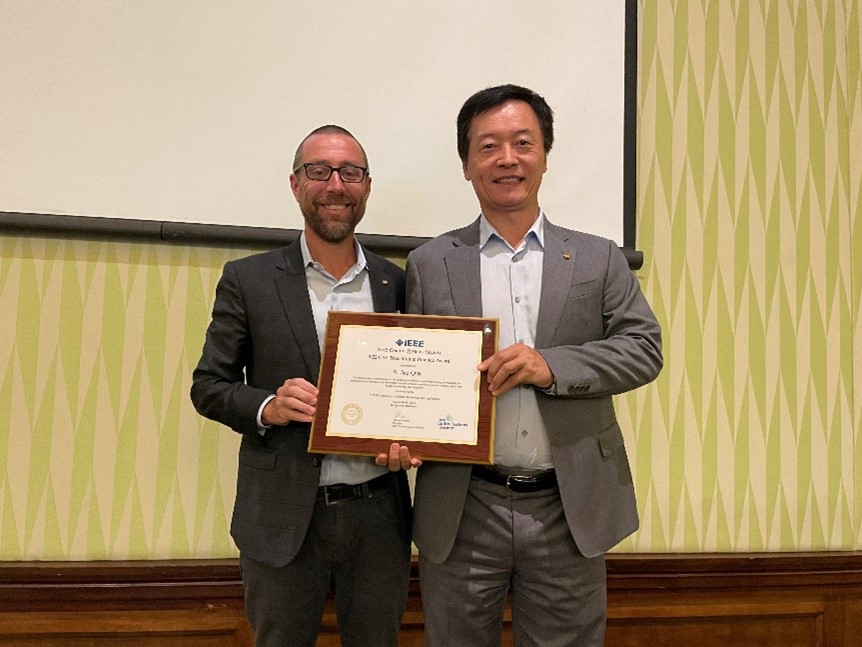 And in becoming the first academic based in Hong Kong and Greater China to pick up this top international award, presented annually since 2009, Qin joined a distinguished list of previous recipients that includes leading figures in the United States, Canada and Japan.
The IEEE is the world's largest technical professional organisation with a stated mission of advancing technology for the benefit of humanity.
In selecting Qin, they made special mention of research he conducted when based at universities in the US, and how it had helped to resolve practical problems faced by the chemicals and semiconductor sectors, thereby improving manufacturing and production processes.
The committee also noted his breakthrough contributions in the area of data-driven control engineering. And they noted his successes in promoting methodological advances and knowledge transfer in systems safety, health monitoring and diagnosis.
"Receiving the award means a lot to me because it is for people who have done good original research and seen it transition into practice," Qin said. "That is the kind of work I always wanted to do. I've generally picked research topics that have good potential for application and, for the past 25 years, have focused on new technologies and what can be learned from data analytics."
In particular, he took an early interest in "model predictive control", which was an accepted practice in industry. He and co-author Dr. Thomas Badgwell were the first to provide a unified framework to reveal the principles of industrial practice. Using abundant data from operational control systems at AMD (Advanced Micro Devices), Qin co-authored another paper that studied how manufacturing conditions usually change over time, with some causing faults and disruptions, and devised an adaptive algorithm to detect faults.
"We were lucky enough to discover and define what was happening, come up with a framework and put it into practice," he said. "We made some later adjustments, but [the work] is now considered a milestone in that domain."
Significantly, the resulting paper has since received more than 6,000 citations on Google, and the project continues to stand out as a prime example of how academic research can have a lasting impact on industry.
In a plenary speech at the IEEE conference, Qin reflected on other career highlights and spoke about a new framework for dynamic latent variable (DLV) analytics.
He also stressed the need for greater domain knowledge in machine learning and data analytics, plus the importance of using innovations in technology to address real-world issues.