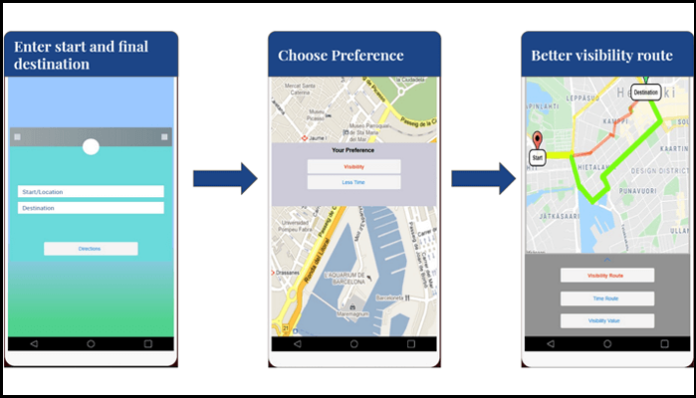 In a bid to come up with solutions to monitor, predict and improve air quality, particularly in megacities, the University of Helsinki and Slush conducted a virtual hackathon titled 'Venture With Air', and  "Haze-Ard" a solution proposed by a team from the International Institute of Information Technology – Hyderabad (IIIT-H) has made it to the shortlisted works.
The competition saw entries from 12 different countries across 4 continents, with only 8 submissions making it to a shortlist. The organizers invited participants to come up with answers to questions such as how to make cities more liveable through tracking and presenting street-corner air quality data, how local businesses can use real-time air quality data to serve their clients better, and so on.
IIITH students under the supervision of Dr. Sachin Chaudhari created an application to address environmental visibility. According to the team comprising of Rajashekar Reddy Chinthalapani, Jayanthi Narang, Siddharth De and Sara Spanddhana, while various parameters of air quality are monitored and discussed, conditions of poor visibility are never updated to the general public. They decided to focus on this aspect because as humans, we are more sensitive psychologically and physiologically to visual input. Plus, pollution in terms of poor visibility is there for everyone to see.
The team's main objective was to propose a solution based on the deployed air pollution sensor network with the potential to simultaneously save lives and be commercialized. Titled 'Haze-Ard', the solution aims to predict visibility values in kilometre on a specified path or at a specified place by using data from the air pollution sensor network deployed in Finland and the data generated using FMI SILAM model.
Impressed by the scope of solutions offered by the teams, Jari Strandman, CEO of Helsinki Innovation Services said, "All of the shortlisted works were of very high quality." According to one of the jury members, Maija Palmer, "The (Haze-Ard) innovation focused on one particular aspect of air quality which has real consequences for people. It feels a bit niche because this is a solution for megacities only, but in those cities, it has the potential to save lives."