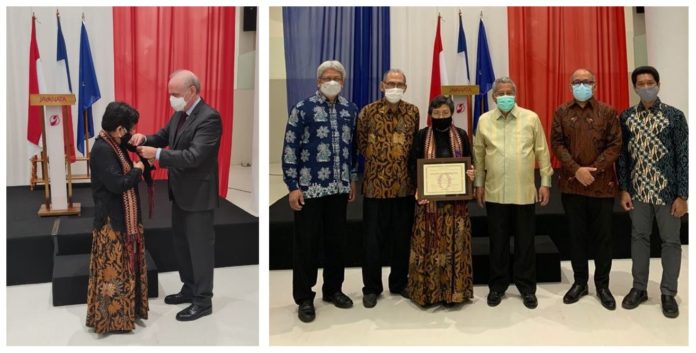 French Government recently honoured one of the ITS Lecturers, Professor Dr Ir. Ria Asih Aryani M.Eng., with the Chevalier dans L'Ordre des Palmes Académiques Award
for her contribution in helping at least 20 Indonesian students to pursue their Master and Doctoral degree in France. Professor Ria received this award on March 24, 2021, at the French Consulate Office in Surabaya, Indonesia.
L'Ordre des Palmes Academiques is a world prestigious award conferred by the French Government to academics from all over the world who have made a major contribution to cooperation between France and a related country in the fields of education and culture. It would take at least 10 years of service or extraordinary achievements for someone to be honoured with this award.
Professor Ria who has also won Prix ​​Mahar Schützenberger often invites French professors to conduct guest lectures in Indonesia and has been actively involved in research collaboration with French researchers since 1994.

With this award, she will continue to help more Indonesian students to study in France and invite more French professors to conduct guest lectures in Indonesia.