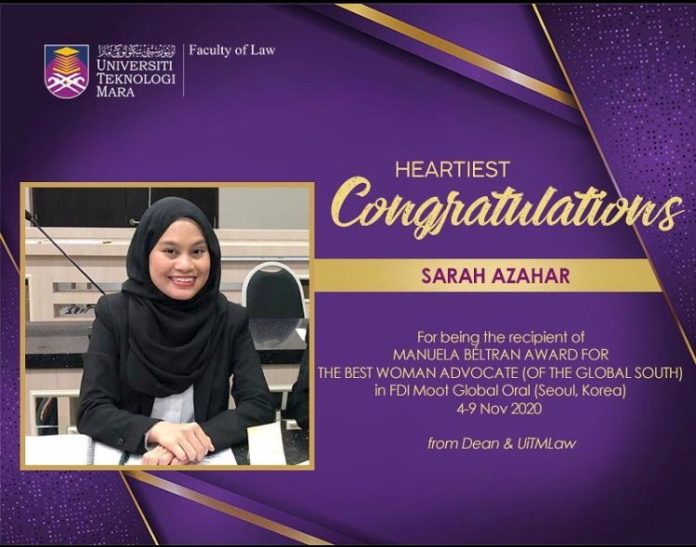 UiTMLaw Mooting Team performed admirably in the Global Rounds of the Foreign Direct Investment International Arbitration Moot 2020 (FDI 2020) organized by the Centre for International Studies, Suffolk University, and co-organizer, King's College, London which was held online for the first time on 9 November 2020.
Ranked among the prestigious moot competitions, the FDI Moot focuses on the issues of international investor-state arbitration. The legal-economic nature of the competition has garnered a lot of attention from international entities that are interested to observe the current legal arguments which involve the practice of arbitration.
Universities from various countries have taken part in the competition ever since it was established in 2008. Including regional rounds, 142 teams with more than 650 team members took part in the 2020 FDI Moot.
The students were given a hypothetical moot problem involving investor-state disputes and several legal grounds for them to argue in a Tribunal setting. Based on their legal knowledge on international trade, the students were expected to prepare legal arguments by referring to international documents.
All UiTMLaw Mooters finished in the Top 55 among a field of 250 advocates from around the world. Sarah Azahar and another Malaysian mooter scooped the Manuela Bѐltran Award for the Best Woman Advocates of the Global South. In addition, Sarah Azahar, who was also one of the Honourable Mention Advocates, finished in the top 10 rankings for advocacy.
The Team, led by Amir Haikal, consisted also of Asma' Kamilah and Ameerah Batrisyia, all of whom were ranked 28, 48, and 54 best advocates in the said competition. The Team was also the first runner-up for Best Memorial for Respondent.
UiTMLaw is committed to its students' soft-skills development. Under the guidance of Prof Dr Irwin Ooi Ui Joo, Dr Ummi Hani Masood and Dr Shahrizal Mohd Zin, the UiTMLaw Mooting Team has affirmed its position as being among the best in Malaysia