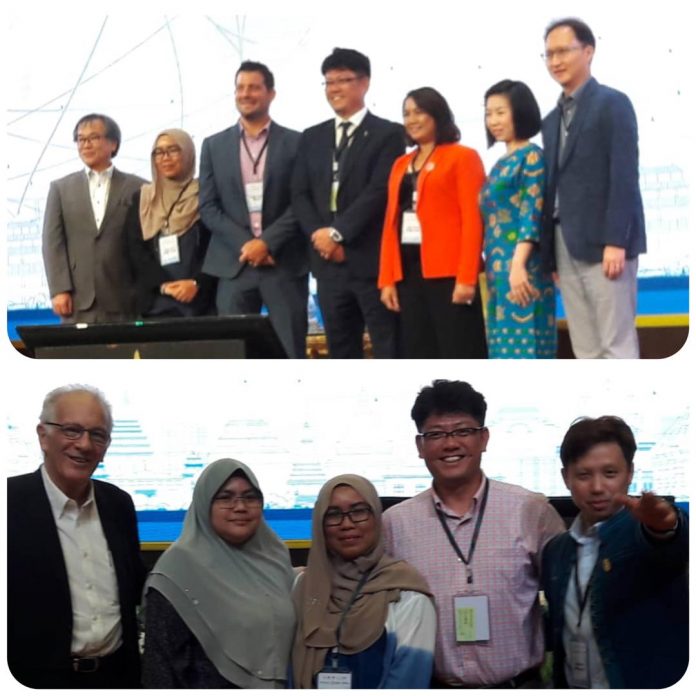 The Faculty of Business and Management (FBM), Universiti Teknologi MARA (UiTM), Malaysia was invited to attend the 2nd International Meeting, Incentives, Conventions, Exhibitions (MICE) Conference and Forum 2019 in Chiang Mai, Thailand, held on 28th till 30th August 2019 at Khum Kham International Convention Centre. Dr 'Ismah Osman, a Fellow of iHALALMAS, and Dr Norol Hamiza Zamzuri, the newly appointed Director of Community of Research UiTM, were invited speakers in a consolidated thought-provoking session.
Dr Norol Hamiza discussed the development of the tertiary education particularly related to MICE management in Malaysia.  According to her, "the educational institution should specifically strive to prepare students for the workforce, as studies have indicated that Malaysia, without doubt, continues to maintain its reputable standpoint as an attractive MICE destination among business travellers and delegates".  More importantly, she emphasized that "collaborative efforts between both parties, namely the industry and academics are prevalent in setting the pace, that is building the nation as a pivotal point for business and tourism".
Another session by Dr 'Ismah Osman focused on Halal initiatives within the global context.  She deliberated on the critical indicators of Muslim-friendly tourism and hospitality: Lessons to be learnt pertaining to the development of Halal tourism's products and services. One of the key components for future study is to examine the landscape of MICE towards preparing the needs of the Muslims' business delegates, namely in food and beverages, accommodations, prayer rooms, washrooms, apps and other Muslims' requirements.
Interestingly, a report from Travel Trade Gazette (TTG) dated 8th October, among others mentioned that the travel and the MICE industry need to realize the huge potential of Muslim-friendly tourism.  Hence, the concerned stakeholders need to take up the challenges and be fully prepared towards Muslim-friendly MICE, tourism and hospitality.   Correspondingly, other highlights of this conference were sharing sessions on the development of Halal tourism by Thai Halal Tourism Associations, craft workshops and a visit to Nawatwiti MICE Village.
Indeed, this conference opened avenues for future collaborations including future conferences to be held among the ASEAN countries, MICE journals and publications, students exchange, and research initiatives on Muslim-friendly products and services and MICE. While Dr Pairach Piboonrungroj, Associate Dean, Faculty of Economics, Chiang Mai University, and his team provided a very warm and hospitable environment, other delegates including Prof Kim Young Hoon of the University of North Texas, USA, and Madam Korakod Khanongnuch of Thailand Halal Tourism Association, shared great insights and experience.
"Reconnect Your World with International Collaboration"
Prepared by: Dr. Ismah Osman, UiTM
Edited by:  Assoc.Prof.Dr.Geetha Subramaniam, Fellow, InQKA, UiTM