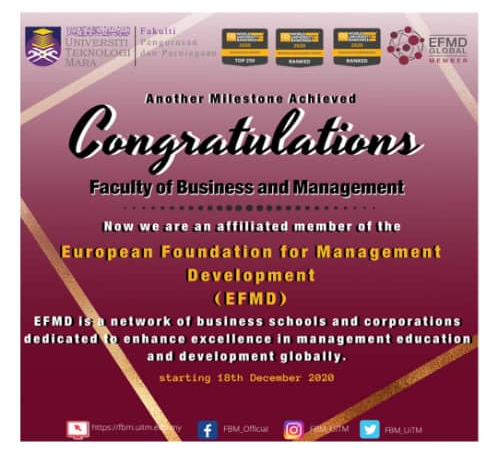 Faculty of Business and Management (FBM), Universiti Teknologi MARA (UiTM) has been accepted as an affiliate member of the European Foundation for Management Development (EFMD).
EFMD is a global, non-profit, membership-driven organisation that act as an accreditation body for business schools, business school programmes, and corporate universities based in Brussels, Belgium, with offices in Geneva, Hong Kong, Miami and Prague. With the support of more than 900 members across 90 countries, EFMD act as a catalyst to promote and enhance excellence in management
development globally.
As a member of EFMD, FBM has become part of the largest community of management development professionals worldwide, from both the academic and corporate worlds.  This will drive the faculty towards international recognition and be part of the most diverse business education network and stay ahead of the curve in management development.
The drive of getting this recognition from EFMD for FBM was initiated by the former dean of FBM and continued by the current leadership of Professor Dr. Noryati Ahmad. It was supported by the other top management members of the faculty headed by Dr. Nor Lelawati Jamaludin together with a team of dedicated committee members; Dr. Noor Ain Mohd Yunus, Dr. Azimah Daud, Dr. Aida Azlina Mansor, Pn. Norina Ahmad Jamil and Pn. Nurul Salizawatee Mahpar.  Together they made FBM-UiTM more visible globally and credible.
This initiative is aligned with the aspirations of UiTM towards achieving globally renowned university status. The former Vice-Chancellor of UiTM, Emeritus Professor Datuk Ir Dr. Mohd Azraai Kassim once stressed on the importance of visibility in a very crisp way and reminded that: "In this world, you not only need to be good, but people need to know that you are good".
Thus, the spotlighted membership is a good measure to move UiTM and the Faculty of
Business and Management forward with international recognition and accreditation as well as making it more visible.