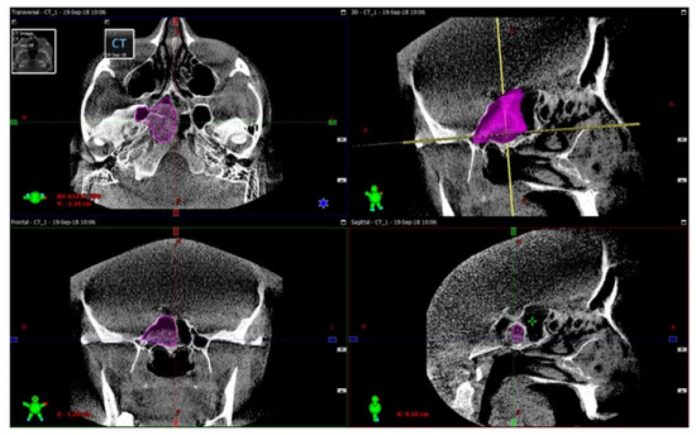 More than 20% of the world's adults and children suffer from various forms of dangerous disease called sphenoiditis. It is an inflammation of the sphenoid sinuses located deep in the nasal cavity next to many vital structures. Sphenoiditis appears as a complication after flu, scarlet, angina, rhinitis, and other diseases. Of all sinusitis, this disease is the most difficult, as it progresses rapidly and may have irreversible consequences. One of the varieties of the disease – isolated sphenoiditis – is difficult to diagnose and treat, the state of the sinus can only be evaluated during surgery.
Computed tomography (CT) is considered the "gold standard" for early non-invasive diagnosis of sphenoid sinuses abnormalities. It is necessary for adequate planning of surgery. Also, it is important to confirm the successful cleaning of the sinus during endoscopic surgery. This is difficult to do because of the anatomical features: even with bent endoscopes, the surgeon does not always get a full view of the sinus. Accordingly, is not always possible to get visual confirmation of the successful removal of all fungal masses. In turn, the remaining fungal masses lead to a relapse of isolated sphenoiditis in about 70% of cases. Until recently, there were no standardized techniques for direct intraoperative measurements of the sinus volume in patients with isolated sphenoiditis.
Researchers of St. Petersburg Electrotechnical University "LETI" and the Pavlov First St. Petersburg State Medical University have proposed a new intraoperative technique of measuring the sphenoid sinuses volume. The technique suggests filling the sinus with a 0.01% solution of methylene blue with an insulin syringe after endoscopic endonasal sphenoidotomy and then measuring the volume of injected fluid.
ETU "LETI" research team consisting of Dmitry Kaplun, Associate Professor of the Department of Automation and Control Processes, and Mikhail Bogachev, Chief Researcher of the Digital Telecommunication Technologies Research Center, justified the absence of significant differences between CT data and the proposed approach using statistical techniques of processing the results of preoperative measurements of three-dimensional models obtained from CT.
The new diagnostic technique was tested in sinus volume measurements of 40 ENT patients of the Pavlov First St. Petersburg State Medical University clinic with isolated sphenoiditis. The measurement was made before and after surgery. Based on the statistical data obtained, it was concluded that it could be used in clinical practice. The scientists published the results of the research in the Diagnostics journal.