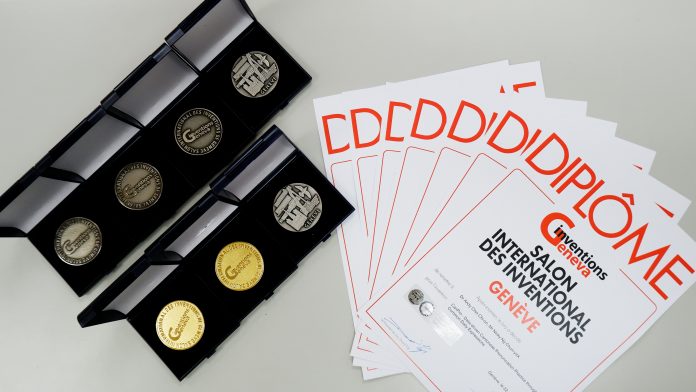 The Education University of Hong Kong (EdUHK) has received two Gold Medals and five Silver Medals in the first-ever virtual edition of Geneva's Inventions Expo held in March 2021, setting the best record since participating in the competition.
The inventions covered a wide range of areas: mindfulness, education technology, language learning, drug rehabilitation, environmental education and sustainable construction technology.
One of the gold medal-winning innovation is Portable Interactive Meditation Mirror, a novel mediation platform that helps users comfort their heart and care for their inner self by using a special mirror containing a digital camera combined with interactive and AI features. Users can develop their abilities to learn the power of self-healing and ways to concentrate and embrace their positive and negative emotions. The principal investigator for this research was Dr Hung Keung, Associate Professor, Department of Cultural and Creative Arts.
Online Assessment System for Individual Scores (OASIS), a new online system for assessing and scoring individual contributions in group projects, which aims to improve team-based learning and discourage free-riding before project commencement won the gold medal. Professor Woo Chi-keung, Department of Asian and Policy Studies is the principal investigator while the co-investigators are Dr Henry So Chi-fuk, Lecturer, Department of Mathematics and Information Technology; external partners Dr Alice Shiu and Dr Liu Yun.
Another innovation by EdUHK, CanPro which is a language mobile app that helps non-native Cantonese learners practise their pronunciation skills and learn commonly used colloquial Cantonese expressions bagged the silver medal. The principal investigator for this project is Dr Andy Chin Chi-on, Associate Professor, Department of Linguistics and Modern Language Studies, and the co-investigator is external partner, Mr Nicky Ng Chun-yick.
Drug-Related Attentional Bias in Drug Abusers and Rehabilitated Drug Abusers, A system which integrates eye-tracking technology and assessments to measure implicit attentional bias in rehabilitated/rehabilitating drug abusers won the silver medal. Different from the traditional paper-based evaluation, this is the first project in Hong Kong using computerised implicit psychological tasks to assess drug abuse and abuse rehabilitation progress. Principal investigator is Professor Leung Chi-hung, Department of Special Education and Counselling, and co-investigators: Mr Jacky Chao Chac-kei, Senior Research Assistant, Integrated Centre for Wellbeing of EdUHK; external partner Mr Chan Hiu-fai.
An innovative indoor air quality (IAQ) educational kit which contains a portable sensor that can simultaneously detect and monitor three major IAQ indicators in classrooms and houses, namely formaldehyde (HCHO), PM2.5 and Total Volatile Organic Compounds (TVOC) bagged silver medal, too. This invention which is also designed to develop the students' STEM knowledge and develop critical thinking skills.The principal investigator is Dr Deng Wenjing, Assistant Professor, Department of Science and Environmental Studies.
Tree Assessment for Life Education (TALE) Project won the silver medal. It is an educational tool developed to nurture citizens' botanical knowledge, raise environmental awareness of urban forests and tree preservation, and cultivate users' appreciation of life and other species. It gives an environmental perspective of life education through gathering geo-referenced data.  The principal investigator is Professor Jim Chi-yung, Research Chair Professor of Geography & Environmental Science; Professor John Lee Chi-kin, Vice President (Academic) and Provost, and co-investigators are Dr Alice Chow Sin-yin, Assistant Professor, Department of Social Sciences; EdUHK TALE project team.
EdUHK's Innovative technology for utilisation of waste residues as resources in producing sustainable construction materials won the silver medal. This production technology successfully uses waste sludge and combustion by-products to replace aggregate, sand and cement as sustainable resources in making eco-concrete paving blocks to fulfil relevant engineering and environmental standards. The principal investigator is Dr Chris Tsang Yiu-fai, Associate Professor, Department of Science and Environmental Studies, and co-investigator is Mr Cheng Wai-nam, Senior Research Assistant, Department of Science and Environmental Studies.