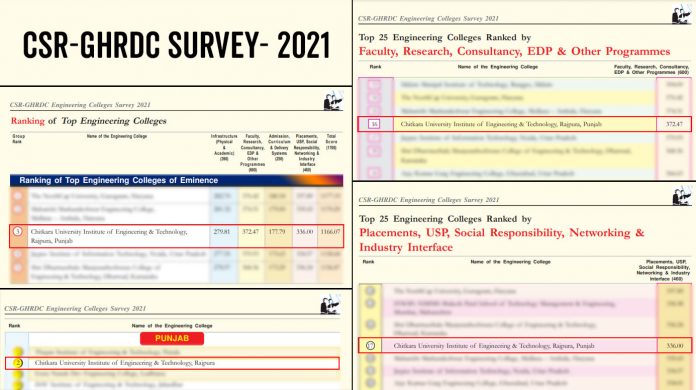 Chitkara University Institute of Engineering and Technology has been ranked 2nd in 'Top Engineering Colleges ' of Punjab and 3rd in 'Eminence Category – India' in the prestigious Competition Success Review- GHRDC Engineering College Survey, 2021.
CUIET has also been ranked 16th in 'Top25 Engineering Colleges' in terms of Faculty, Research, Consultancy, EDP and other programs. Also stands strong at 17th spot in 'Top25 Engineering College' ranked in terms of Placements, USP, SR, Networking and Industry Interface.
Some of the colleges and universities that have been listed in 'Top Engineering Colleges of Eminence' rankings include Vishwakarma Institute of Technology, The NorthCap University, Jaypee Institute of Information Technology, Guru Nanak Dev Engineering College among others.
Competition Success Review is India's premier current affairs and Career Magazine. It's very beneficial for students preparing for competitive exams like Civil Services, MBA, and banking.
GHRDC is a research-based organization that has been the pioneer in starting the concept and practice of rating and ranking B-Schools from the very inception of its organization and has since (1998) been involved in rating and ranking of B- Schools in India. This was followed by initiating the Survey and Ranking of Hotel Management Institutes in the year 2007 and the Engineering College Survey since 2009.
Over the last eight years, more than 250 business schools, 100 hotel management institutes, and over 100 engineering colleges have been visited, with over 5000 faculty members, 10,000 students, and over 300 directors of various institutes meeting and interacting with them. The richness and range of interactions and experiences is one-of-a-kind, as well as professionally rewarding in strengthening the survey methodology.