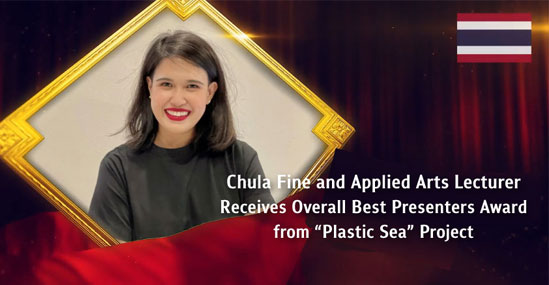 Dr. Haisang Javanalikhikara, a lecturer from the Faculty of Fine and Applied Arts, Chulalongkorn University, has received the Overall Best Presenters award at the 8th International Conference on Arts and Humanities (2021) on Wednesday, September 22, 2021.
Dr. Haisang's presentation on "Plastic Sea: Art Exhibition on Plastic Marine Pollution", a project created to encourage people to reduce plastic waste via interactive data visualization art, is one of the creative research projects under the FAAMAI Digital Arts Hub, supported by the Chulalongkorn University Second Century Fund (C2F).
The 8th International Conference on Arts and Humanities (ICOAH) was co-organized by the Faculty of Fine Arts, Concordia University, Canada; the Faculty of Music, Universiti Teknologi MARA, Malaysia; and the International Association for Social Science and Humanities, Sri Lanka.  More than 100 participants from 25 countries joined the virtual conference.