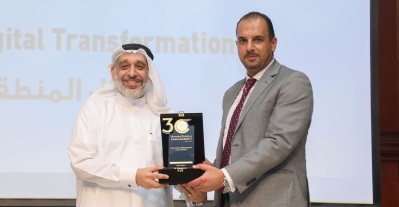 The Chancellor's Distinguished Lecture Series at Ajman University brings regional and global leaders to campus to discuss their ideas about "inventing the future." Launched in 2018 — known as the Year of Zayed — the Lecture Series honors Sheikh Zayed bin Sultan Al Nahyan, the founding father of the UAE, who brought his vision of a great nation to fruition. Distinguished lecturers at Ajman University share their own success stories and inspire audiences to dream big.
"In selecting distinguished speakers," explains Chancellor Karim Seghir, "we specifically look for people who continue to invent the future, just as Sheikh Zayed did, in ways that were formerly unimaginable. The series was created to share the thoughts and actions of great intellects – people who are, in fact, changing the world."
The inaugural lecture was given on November 19, 2018, by the world's first Minister of State for Artificial Intelligence, His Excellency Omar bin Sultan Al Olama. His mission is to help fulfill the UAE's ambition of being at the forefront of the global technological revolution. He also contributed to the preparation of the UAE Centennial 2071 strategy and the UAE 4th Industrial Revolution Strategy.
The second lecture, "Is the Region Ready for the Next Digital Transformation," was delivered by Mr. Mishal Kanoo, Chairman of The Kanoo Group – one of the largest and longest-running family-owned groups of companies in the GCC. In operation for 124 years, The Kanoo Group has continuously expanded into various divisions including shipping, travel, machinery, oil & gas, freight, transit, industrial products and chemicals, engineering, and many other incredibly successful joint ventures. Mr. Mishal is one of the most iconic business figures in the Middle East. He was named among the "Top 100 Powerful Arabs" in 2013; and, one of the "15 Wealthiest Arab Businessmen in the World" in 2012.
After attending Mr. Kanoo's lecture on February 12, 2019, third-year AU student Bilal Maher commented: "It was a great pleasure and opportunity to attend this lecture from the Chancellor's Distinguished Series. We learned a lot about how to see the bigger picture and how to think out of the box. We were honored to meet Mr. Kanoo, such respected, humble and noble man. I am happy that Ajman University gave us the chance to have this experience. I look forward to the next one!"