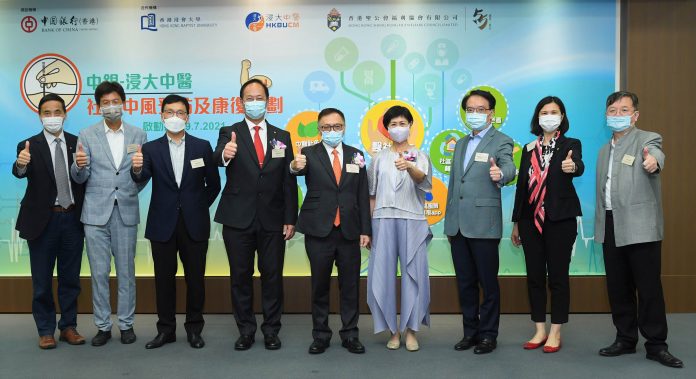 Hong Kong Baptist University (HKBU) and the Hong Kong Sheng Kung Hui (HKSKH) Welfare Council have received a generous donation from the Bank of China (Hong Kong) (BOCHK) for the three-year "BOC–HKBU Chinese Medicine Community Stroke Prevention and Rehabilitation Scheme".
The Scheme provides free Chinese medicine rehabilitation treatments to 500 eligible low-income stroke patients and it also offers free preventive treatments and tracking assessments to 1,200 people who have a medium to high risk of having a stroke.
The launch ceremony for the Scheme was held on 29 July on the HKBU campus. Dr Cheung Wai-lun, Project Director of the Chinese Medicine Hospital Project Office, the Food and Health Bureau; Mr Jimmy Sun, General Manager of the Institutional Business Department, BOCHK; Professor Alexander Wai, President and Vice-Chancellor of HKBU; and Dr Lee Ching-yee, Director of HKSKH Welfare Council Limited, officiated at the ceremony.
In his speech, Professor Alexander Wai said the School of Chinese Medicine (SCM) at HKBU launched Hong Kong's first full-time Chinese medicine undergraduate programme funded by the University Grants Committee in 1988. Since then, SCM has been providing Chinese medicine services to the community and promoting Chinese medicine education, research and healthcare services in Hong Kong.
"Apart from reducing public healthcare expenses, improving the quality of life of stroke patients, and increasing the success rate of rehabilitation initiatives, the BOC-HKBU Chinese Medicine Community Stroke Prevention and Rehabilitation Scheme can also serve as a good example of how we can construct a community medical service management model based on collaboration between the Chinese medicine sector and the community," he said.
Mr Jimmy Sun said: "BOCHK has all along taken a proactive approach to its social responsibilities, and it has continuously supported primary healthcare and the development of Chinese medicine. We have maintained a long-term partnership with HKBU in the area of Chinese medicine, including a donation to its School of Chinese Medicine to establish the Bank of China (Hong Kong) Chinese Medicines Centre in 2003, and the offering of Chinese medicine supplements for pneumonia prevention to frontline medical staff in collaboration with the University's Anti-SARS Action Group in the fight against the SARS outbreak. In the future, BOC will continue to support the development of Chinese medicine so that more Hong Kong citizens can benefit."
Dr Lee Ching-yee said the HKSKH Welfare Council has worked with SCM through a medical-community collaboration to set up community clinics since 2017. In particular, teachers and students from SCM visited elderly people in the Kowloon City district to follow up and deal with their physical pain problems. "The community clinics set up by this Scheme officially opened in January this year. In just half a year, the project team received more than 100 applications. With professional treatments administered by Chinese medicine practitioners and follow-ups organised by social workers, many successful cases have been observed," she said.
Mr Wong Hon-kwong, a beneficiary of the Scheme who received half a year of free Chinese medicine and acupuncture services, said: "I could not open my left palm before, but I can now. My friends can see my progress." His wife also said that he has improved his mobility. As a result,  he can now walk more smoothly, and these developments have boosted his self-confidence.
The BOC–HKBU Chinese Medicine Community Stroke Prevention and Rehabilitation Scheme, which started in October 2020 and runs until September 2023, mainly serves people aged 60 or above who are Comprehensive Social Security Assistance or Old Age Living Allowance recipients, or stroke patients from low-income families. Stroke patients under the age of 60 who are in need of support can also join the Scheme after an assessment by social workers or a referral from one of the SCM clinics.
Under the Scheme, experts from SCM will form treatment teams and formulate a six-month treatment programme for stroke patients.
Patients will receive free Chinese medicine, acupuncture and massage treatments two to three times a week, up to 72 times in total. SCM will arrange for Chinese medicine practitioners to visit the patients, or alternatively, the practitioners will invite them to receive their treatments at the elderly centres of the HKSKH Welfare Council. It is expected that about 500 people will benefit from the Scheme. Furthermore, the Scheme will provide counselling and support services for older stroke patients and their family members.
In addition, SCM clinics and the HKSKH Welfare Council's elderly centres will set up health management stations for stroke patients, with SCM offering training to suitable older people who can then go on and serve as Chinese medicine senior ambassadors for stroke prevention. Using a soon-to-be-launched website, the ambassadors will assess the risk of stroke in other older people in the community and promote stroke prevention messages.
Around 1,200 older people with a moderate to high risk of stroke will be referred to the HKSKH Welfare Council's elderly centres to undergo a one-year preventive treatment programme and follow-up assessments. The website will also provide recommendations on balanced diets and appropriate exercises for people with a low to medium risk of stroke, and alert high-risk individuals to seek medical treatment.
Those who are interested in participating in the Scheme can call 6533 9972 or 2333 1854 for any enquiries, or they can complete the following online form: https://docs.google.com/forms/d/e/1FAIpQLSdCoJwAYWDzOpxXvzkOYkRx0_7xB8GvZeuscb7B98jtiwItGA/viewform