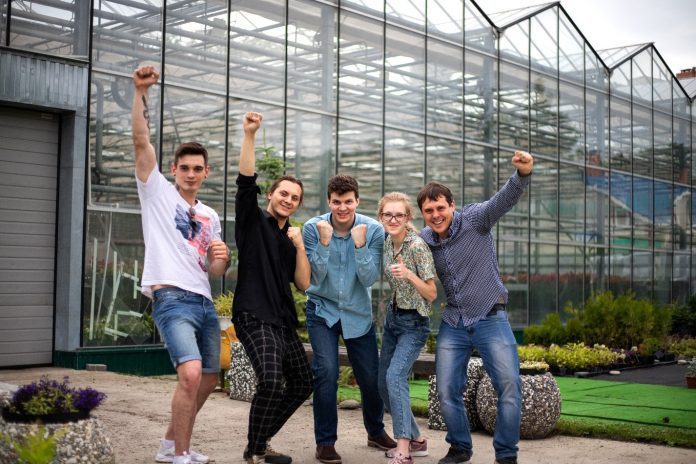 Members of the Green Spot team from Voronezh State University of Forestry and Technologies (VSUFT) who became finalists of Urban Greenhouse Challenge: Reforest, an international competition at TPU, are sure that the topic of reforestation is essential for entire Russia.
It is the first time Urban Greenhouse Challenge: Reforest has been held at a Russian university. Tomsk Polytechnic University became its main organizer. The key task of the contestants is to develop a project of a city farm, an autonomous greenhouse for growing coniferous and deciduous seedlings on multi-tiered shelving units. The prize pool of the competition is $10,000.
The Green Spot team consisted of students studying different majors, however, according to Maxim Sysoev, each role fits its person in charge perfectly and everyone does what he likes. A distant mode of the competition is also convenient as it allows combining working on the project with the study. Professional advice from mentors of Urban Greenhouses Challenge: Reforest also helped the contestants.
"We reconsidered some things in our conception and it has opened the doors for new ideas, topics and opportunities. Moreover, we firmly hardened to some ideas. The basis of our conception is a modular design of a greenhouse complex, which increases its mobility, as well as a little bit of an unconventional approach in some things but we will not put our cards on the table until the final," the captain of the Green Spot team says.
Maxim Sysoev adds that he decided to take part in the international competition because there are some developments and ideas in this area in the VSUFT Engineering Center.
"The last thing that needs to be done is to put all these ideas in one project and to show this "transformer". For instance, we are intended to implement a project on a practice-oriented approach to create carbon polygons on forest areas of the Russian Federation subjects to measure carbon pickup and emission, including total carbon balance by ground sensors, analysers using unmanned aerial vehicle technologies," the VSUFT student explains.
The members of the Green Sport team are sure that reforestation is rather important and relevant to entire Russia.
"There was mentioned a need to decrease the accumulated volume of greenhouse gas emission through reforestation in the Presidential Address to the Federal Assembly. We are directly implementing the Presidential Address by our project. This project is very relevant to any region as it is a universal solution and it is not only about reforestation," the students say.