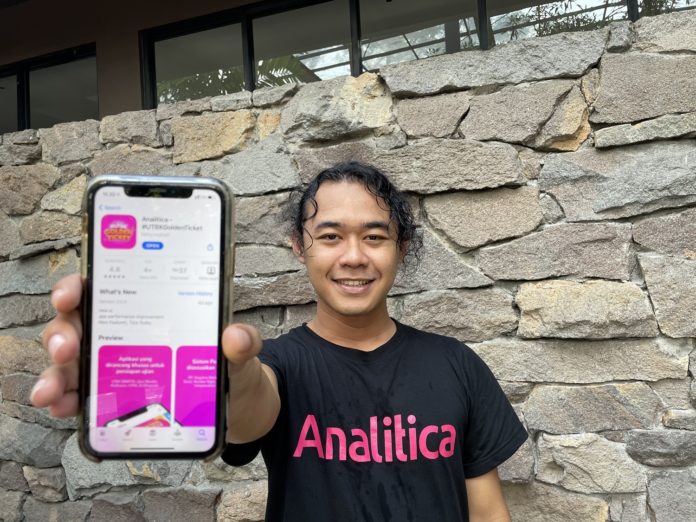 Hilmy Muktafi, a student of the Information Systems program Faculty of Science and Technology, Universitas Airlangga (UNAIR) has created educational innovation to support distance learning for prospective new students who will take the Computer-Based Examination (UTBK). The application is called Analitica.id.
"Analitica was created partly because of concerns over the impact of the Covid-19 pandemic on education. We cannot study face-to-face because we are worried that the spread of the virus cannot be avoided," said the final year student, Tuesday, March 22, 2021.
Hilmy continued, education cannot stop entirely and wait for the end of the pandemic. "We have been challenged to become one of the solution-makers to this problem. We try to integrate technology in the learning process with the hope of accelerating equitable access to education and being able to penetrate regional boundaries," he added.
Analitica is an educational application specifically designed for exam preparation such as UTBK, SBMTPN, Mandiri, Official and civil servant entrance exams. Now on App Store, Analytica's popularity is on the rise by making a place in the top 16, competing with other educational apps. It has been downloaded 20 thousand times.
For building his team, Hilmy admitted that the process was mostly done remotely from home. It did not necessarily prevent him from working with team members far outside the region, even other countries. There are many challenges, but for Hilmy, the objective of Analitica is important to strive for, to achieve equitable access to education throughout Indonesia.
"The Covid-19 pandemic creates its own challenges in the work process. I can say, the Analitica team spreads from Sabang to Merauke, " he said.
"One of the objectives of Analitica is equal access to education. It should be only available on any platforms, " explained the student of the Information Systems Undergraduate Program.
In the future, Hilmy hopes that the Analitica app can be a solution to educational problems that occur in Indonesia. Soon, Analitica will be collaborating with JTV and UNAIR to hold a 2021 UTBK Try-Out on April 5. The ten winners of UTBK Try-Out highest score will get Golden Tickets to enter UNAIR.
"Hopefully, the products we created can provide solutions to educational problems in Indonesia. For new prospective students, try to take part in the Try-out at Analitica, it can make you be more productive during a pandemic, " said Hilmy.
Hilmy also revealed that the Analitica application has helped many prospective students to prepare for 2021 UTBK. It can be seen from hundreds of testimonials from application users through the Google Play Store and App Store.
Not only through the application, but Analitica also collaborates with JTV to hold a TV program called 'Sinau nang Omah' to prepare prospective students to work on questions at 2021 UTBK. This program is broadcast live through the TV station and streaming channel with prizes for a quiz at the end of the program.