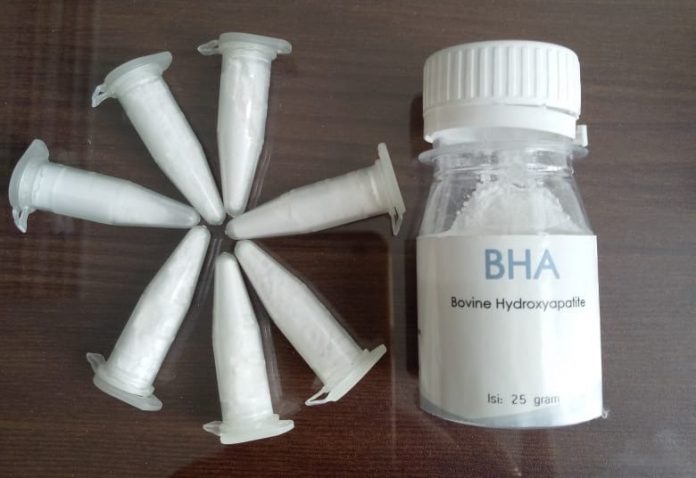 Bhagalen, an injectable bone substitute is developed by Dr Aniek Setiya Budiatin, Apt., M.Si., lecturer and researcher at the Faculty of Pharmacy, Universitas Airlangg UNAIR. Bhagalen is an innovation in the form of injectable bone fillers for bone fractures and osteoporosis that oral drugs cannot handle.
This innovative product has received funding from the Ministry of Research and Technology / National Agency for Research and Innovation, Indonesia.
Aniek revealed that the product is in the form of a powder and a solvent. This powder is mixed and then injected into the cavities, both fractures and osteoporotic bones.
Bhagalen consists of bovine hydroxyapatite, gelatin, and alendronate. Bovin hydroxyapatite is a powder obtained from cow bones. The cow bones are produced in-house in UNAIR's Teaching Industry to reduce imports of materials.
Aniek explained that the composition of Bhagalen consists of 80 percent hydroxyapatite which is part of the components of bone so that it is easily recognized by the bones and can fuse well.
Aniek also explained that bone has two components besides cells and water, organic and inorganic. The organic component used in Bhagalen is gelatin, and the inorganic is hydroxyapatite.
Interestingly, with this Bhagalen, all the damage to the bones can be treated. Bones that are damaged due to fractures or holes continued Aniek; to recover quickly, injections can be made to form new bones to prevent deformities.
"It should be faster with the injection due to the wider surface shape so that it will take about a month," she explained.
She also said that this injection model is still rare in Indonesia because of its high price. For this reason, Aniek hoped that Bhagalen would be used widely at a more affordable price.
Aniek hoped that her innovation could be widely recognized and used so people in need can be helped and avoid bone defects.