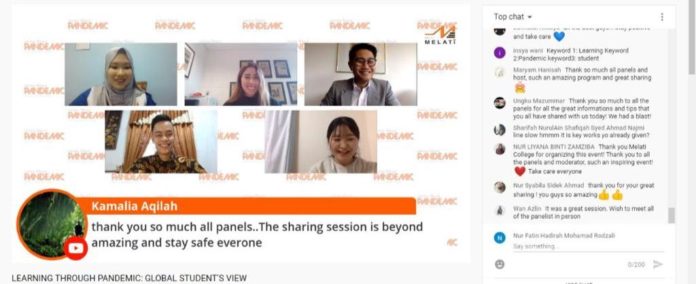 The College Representative Committee (JPK) of Melati Residential College from Universiti Teknologi MARA (UiTM) Shah Alam took an initiative to organize a program called "Learning through Pandemic: Global Students' View" which was held in two sessions on 12 December 2020 and on 19 December 2020 via Youtube platform of Melati TV Official.
This program is organized by the Exco for International and Foreign Affairs led by Nor Adilla binti Muhamad Yunos with guidance from the exco`s advisor, Mr. Mustakim bin Hashim. This program brings a list of panel university student leaders from abroad to provide insights into the learning system run at their respective countries especially their own universities.
The "Learning through Pandemic: Global Students' View" program is an online program that involves students' leaders from overseas universities to share their opinions and views towards online distance learning.
There were two sessions held, the first program was "Learning through Pandemic: Global Students' View" which involved panels from Indonesia, Japan, Brunei and Australia. The total number of viewers for this session were 5044. This is followed by the second session "Learning through Pandemic: Global Students' View 2.0" involving panels from Egypt, Turkey, United Kingdom, and Malaysia to explore more about online distance learning globally. There were 3022 viewers for this session.
According to the head of the program, Nor Adilla, "Apart from knowing the global learning process implemented during the pandemic that currently affects most parts of the world, we can also strengthen relations with students and universities from abroad even though our country border has been and is still being closed. Furthermore, now is not the right time for us to go abroad to establish global relations. However, this kind of online program implemented to some extent can help us in enhancing cooperation with foreign parties. "
Throughout this program, university students can take it as an eye-opener for them on the learning methods implemented in foreign universities and it can give ideas and help students in managing online learning methods more effectively. It is because this program can offer students various ways of learning in the new norms by sharing views from students globally.