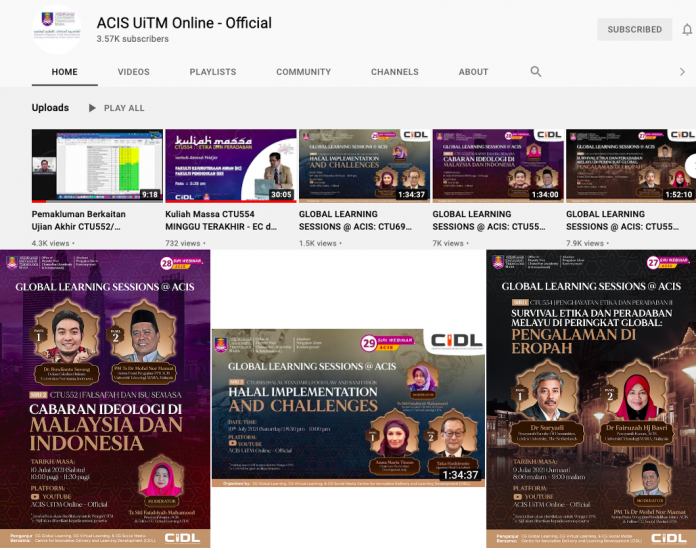 UiTM granted online and distance learning (ODL) to provide the students with global learning experiences on 15th and 16th July 2021. 13,625 students have had the opportunity to attend lectures by guest lecturers from Universiteit Leiden, the Netherlands, and Universitas Narotama Indonesia.
Similar to it, there was another global learning session that involved a targeted group of students who are taking the Halal Industry Management program. Global learning sessions took place through social media, Youtube channel which is very familiar and friendly with students, anywhere anytime.
There are two main subjects that offer a global learning experience for all 13,625 students per semester. There are 6003 students who registered for studying Ethics and Civilization and 7623 students who are taking Philosophy and Current Issues subjects. TThese global sessions will be held every semester for the enrolling students to enhance their better learning and understanding.
These kinds of experiences expose students to the new paradigm of global thoughts in understanding philosophy, ethics, civilization, and current issues from the global perspective of prominent experts.
As to make it more beneficial, the sessions were opened to students from our collaborative partners from Indonesia, Brunei, and the Netherlands as well. These two global learning sessions were attended by almost 15,000 students.
During another session, almost 100 students who are taking the course of Halal Standards, Food Law and Sanitation have been virtually brought to visit halal industrial experiences in Japan and Italy. Amazingly, the viewers among students reached almost 1,500 students.
The students had their class with guest experts from industries, which are Ms Anna Maria Tiozzo, the president of World Halal Development from Italy, and Mr Taka Hashimoto, a Japanese halal consultant from Tokyo. This session had given great opportunities to students to learn and have discussions with global industry experts, enhancing their better learning and experiencing the real global halal industry.
The practice of global learning which collaborates with global experts from other prominent universities and industries is in line with the current trends, using innovative delivery of teaching and learning via social media.
They have been organized smoothly by the respective faculty, The Academy of Contemporary Islamic Studies (ACIS), and supported by the responsible entity, the Centre for Innovative Delivery and Learning Development of the University. The majority of the students gave very good feedback and expressed appreciation towards such efforts towards global learning experience, and global networking possibilities as well.