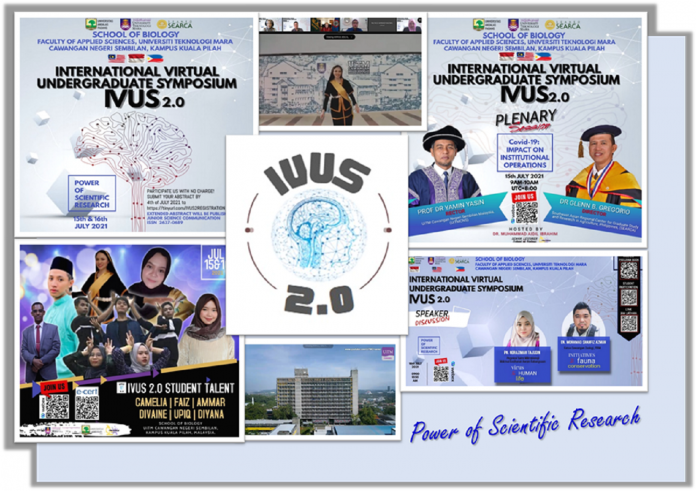 The School of Biology, UiTM Cawangan Negeri Sembilan, has successfully organized the 2nd International Virtual Undergraduate Symposium (IVUS 2.0), with a larger number of international participants. The success of IVUS 1.0 in January 2021 has attracted 29 international presenters not only from our neighbouring country, Indonesia but also Thailand and Yemen.
The IVUS 2.0 focuses on the "Power of Scientific Research" theme in the hope to inject (impart?) interest and attract young undergraduates to continue pursuing their studies in the science field despite the unstable education system impacted by the Covid-19 pandemic.
The IVUS 2.0 was not only a platform for 66 young undergraduate students from the School of Biology, UiTM Cawangan Negeri Sembilan, Kampus Kuala Pilah (UiTMCNS), and international participants to gain experience presenting their research in front of viewers, but they were also fortunate to learn from the plenary session given by the Rector of UiTMCNS, Prof Dr Yamin Yasin, and the Director of The Southeast Asian Regional Center for Graduate Study and Research in Agriculture (SEARCA), Dr. Glenn B. Gregorio, on the impact of Covid-19 faced by institutional operations.
The panel speakers shared their views and strategies in handling their research work despite the gruesome pandemic as they believed conformity is the jailer of freedom and the enemy of growth.
The School of Biology UiTMCNS Kampus Kuala Pilah was honored to receive participation form from Indonesian academic institutions namely Universitas Andalas Padang, University of Bengkulu, Universitas Syiah Kuala, Universitas Maritim Haji Ali and Polytechnic of ATI Padang.
The participation from the University of Maejo, Thailand and Hadramout University, Yemen exceeded our expectations, as we had not anticipated such recognition for this event.
Through IVUS2.0, not only the students were able to disseminate their research findings, but they also learn about current issues of faunal conservation and Covid-19 testing in Malaysia through a sharing session led by representatives from the Forest Research Institution Malaysia (FRIM) Kepong and the National Public Health Laboratory.
To add to the excitement, students were also given the opportunity to showcase their talents.
The UiTMCNS Deputy Rector of Academic Affairs, Dr Noorlis Ahmad has perceived that the IVUS 2.0 was a successful and comprehensive learning platform for students and the rest of the participants in general.