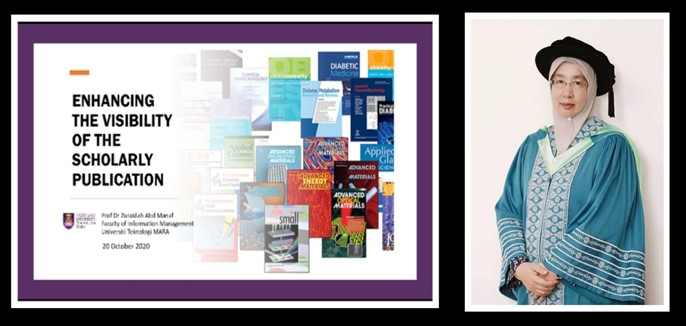 Professor. Dr. Zuraidah Abd Manaf, a professor of Information Management at the Faculty of Information Management, Universiti Teknologi MARA (UiTM) Malaysia discussed extensively the importance of the visibility of the published papers recently in a webinar session.
Her session titled "Enhancing the Visibility of the Scholarly Publication" on 20th October 2020 was conducted via faculty FB live and had more than 800 views and reached more than 2.5K audience just within two months. The overwhelming response stands to speak for itself on the interest of the subject among academia, besides showing how social media can assist us positively in current times.
Prof. Zuraidah highlighted how crucial it is to "make a scholarly publication visible, discoverable and accessible in the cycle of scholarly communication. She further discussed how a good, scholarly publication "requires thorough planning, strategies, and approaches to ensure dissemination of information and knowledge to a wider audience. In this way, it will not only increase the impact and visibility of the research but also establish the researchers' reputation".
The ninety-minute webinar session also deliberated further on the need to select and publish in high impact journals without neglecting the quality, integrity, and validity of the manuscript submitted. Issues such as predatory journals, article retraction, author accountability and publishing ethics standards were also put forward. Besides that, Prof. Zuraidah also discussed and shared bibliometric analysis on the nation's scholarly output performance.
The most interesting part of her session which attracted the academia was her examples which were based on real time evidence and supported by authoritative and reliable current and times series data.
Prof. Dr. Zuraidah was seconded as the Director of Citation and Infometric Division (formerly known as Malaysia Citation Center), Department of Higher Education, Ministry of Higher Education Malaysia for five years. She completed her tour of duty on February 2020 and is currently back to her faculty as a full-time professor.
Her area of research interests includes information storage & retrieval, information management, digitization of cultural heritage and bibliometrics.